HONG KONG- Rafa Cabrera Bello leads the UBS Hong Kong Open by 3 shots at the half way stage. He carded -5 on Day 2 to further advance to an impressive 11 under par to finish the day on 129 on the par 70 Fanling course.
In another almost perfect round Cabrera Bello dropped just one shot at the par 3, 5th hole, made birdies at 2nd, 3rd, 8th and 9th on the front nine and birdies the 13th and 15th holes coming home. On the 18th he hit the green with his 2nd shot but narrowly missed the birdie attempt.
About the dropped shot early in the round Cabrera Bello said "Yeah, bogeys happen. It wasn't too big of a catastrophe. I just missed the green by very little. Putted, left myself a sneaky five footer and missed it. That's golf. It wasn't too hard to digest, and a few holes later, I managed to make a couple birdies in a row, so that was good'.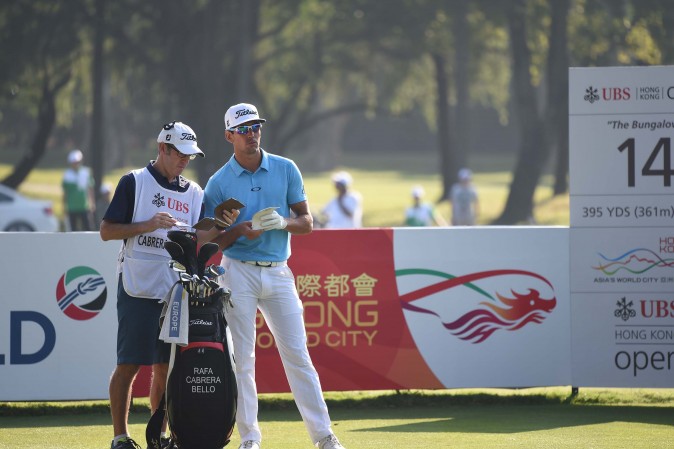 Sam Brazel of Australia is lying 2nd on 8 under, produced 4 birdies and an eagle but also dropped shots at the 9th and 15th holes. He will be in the last group tomorrow with Cabrera Bella, explained that his plan for the weekend is to "Just go and do my thing. I'll just try and control what I can control once again. Things are working well".
Tommy Fleetwood of England is lying clear in 3rd place at 7 under. Three players Danny Willett of England, Paul Peterson of USA and Justin Walters of South Africa are a shot back at 6 under par with a total of 134.
About his round Fleetwood said he was not playing particularly well "All right. Could have been better. Could have been worse. I didn't swing it great really. The ball went in the right direction a lot of the time but my swing never felt good. But when you look back at it, I had a few chances. Made a couple, missed a couple and played the last like an idiot. But all in all, 2-under, it's not bad. You just always feel like it could be better".
Whereas Willett thought his day was good, "Yeah, it was a nice day. We played pretty good yesterday and didn't take loads of chances. Played just nice and steady again today.
"It's a golf course you've got to put your ball in position off the tee. You can take a few things on but as soon as you get in the rough around here, you've not got much control of your golf ball. The greens are a bit firmer this year, and obviously then with a few tight pins, it makes it more difficult".
Thongchai Jadee is one of 4 players at -5, Miguel Angel Jimenez, Scott Hend Shiv Kapur are sitting in a group of 9 players on -3, while Justin Rose is lying 10 behind the pace at -1, but made the cut which included level Par scores.
Olympic Gold Medal winner Rose said he played well today, hit lots of greens but it was his reading of the greens that was off "I'm not quite finding the visuals of them yet. They are quite grainy, so sometimes I'm playing for grain and it's not working out. Other times, I feel like the grain is pulling it. It's just tricky.
Although 8 shots off the pace after day 2, Miguel Angel Jimenez, Scott Hend and Shiv Kapur are known to be determined players, often "Saturday movers", who could work their way up the leader board.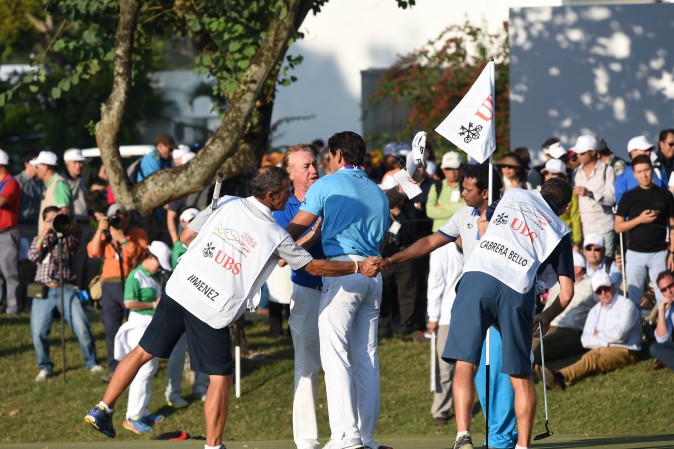 Asked about his strong lead position Cabrera Bello replied: "I'm in a commanding position so am going to try to do nothing different. Just stick to my game plan and try to keep playing smart and being patient, waiting for my opportunities, and hopefully hitting good shots and creating some birdie chances. I know I will win again. I've won before and will do so again. I just need to keep giving myself chances.
"I have been working on some mistakes that maybe I have done on other occasions. I don't think I'm doing anything wrong not to get the win, so it will happen. Hopefully it will happen in two days' time".
It was another perfect day at Fanling Golf Course with lots of sunshine and only a light breeze. The weather forecast is good for the weekend, so if the wind stays away, some good rounds are expected as the top players fight for the winner's trophy.