Radio Station Owner Amazed by Shen Yun's Drumming Pieces
April 23, 2014 10:35 pm Last Updated: June 24, 2015 8:07 pm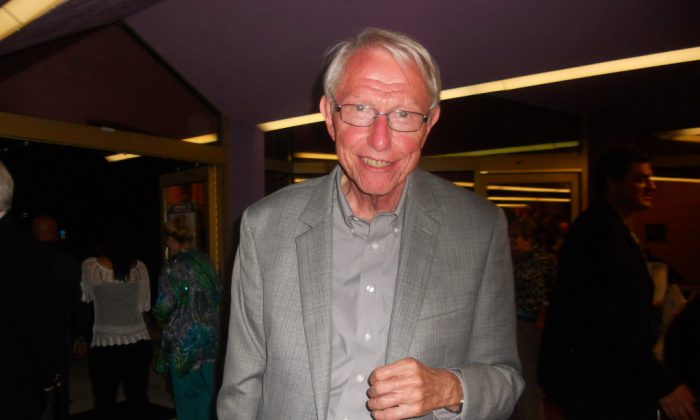 SARASOTA, Fla.—Gary Petricola, owner of WJER Radio, known as "The Voice of the Valley" throughout Tuscarawas County, Ohio, described Shen Yun Performing Arts' 2014 opening night in Sarasota as excellent.
"I really enjoyed it—a great amount of talent on that stage," he said, referring to the New York-based company's evening performance at the Van Wezel Performing Arts Hall on April 22.
As a former drummer, Mr. Petricola especially enjoyed the drumming pieces. "It always amazes me that they get that sound out of those drums," he said. "I was impressed with the full orchestra, too."
According to the Shen Yun website, "In ancient China, drums were seen as all-powerful magic weapons, and were first used in battle."
The most common drums used during Shen Yun dances are the hourglass-shaped waist drums, which can be played from both ends; the majestic war drums, which were once used on the battlefield to galvanize an army's morale; and the octagonal drums, which represent the eight flags of the Manchu ethnicity during the Qing Dynasty, according to the website.
Mr. Petricola, whose company has broadcast the local news, weather, and sports since 1950, appreciated the culture, rhythm, and music from China: "It's a very impressive performance, and I'm glad I came!"
He also understood Shen Yun's deep connections to the traditional Chinese culture, which has been all but wiped out by the Chinese Communist Party during its reign of power. Shen Yun's mission is to revive China's authentic, traditional values.
"The truth, the tolerance, the compassion—I think that these are three great words that need to be brought forward every day in all of our lives," Mr. Petricola said. These principles are at the heart of traditional Chinese culture.
"I think that everyone should come and see it, and it might give us a little better understanding of what's going on there [in China] currently." Two of the story-based dances portray the regime's ongoing suppression of the traditional culture.
Shen Yun Performing Arts New York Company will give one more performance in Sarasota on April 23. Its last performances for the season will be in Jacksonville, Fla., May 9–11.
Reporting by Edie Bassen and Adam Miller
New York-based Shen Yun Performing Arts has four touring companies that perform simultaneously around the world. For more information, visit ShenYunPerformingArts.org
The Epoch Times considers Shen Yun Performing Arts the significant cultural event of our time. We have proudly covered audience reactions since Shen Yun's inception in 2006.