Radiance: Where Harmony Reigns
July 28, 2013 6:02 am Last Updated: July 28, 2013 6:35 am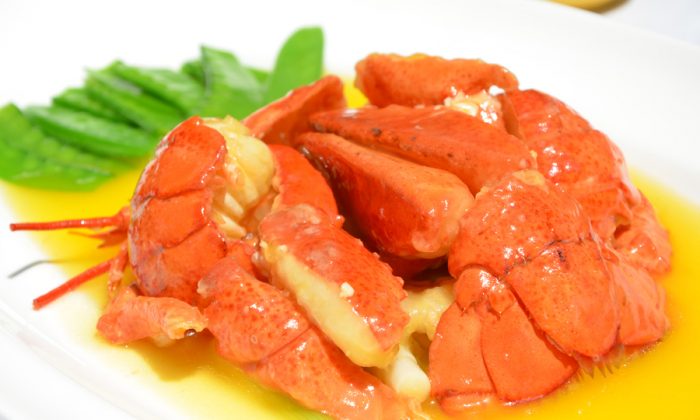 Radiance is unpretentious, yet it is one of the most impressive fine Asian restaurants I have ever visited. The entire experience is centered around the beauty of ancient Chinese culture, from the ambiance and decor to the food and service.
As you enter the restaurant, a sense of serenity envelops you and takes you back to classical China, a time, it has been said, when humans and nature coexisted in harmony.
The Setting
Radiance has two levels. On the mezzanine, a book lounge replete with books on Asian culture, philosophy, and meditation allows for a wonderful experience sipping tea and reading.
A range of more than 60 teas and tea blends are available—from the light, fragrant Silver Needle to the strongly flavored lapsang souchong. Many of the blends are Radiance creations and there is also a wellness tea range. Each tea possesses different health benefits and the staff are happy to give recommendations.
The mezzanine wall and ceiling panels are made from ancient yellow cedar that grows exclusively on Victoria Island in British Columbia. Owner Lillian Song said she chose it for its preciousness and unique texture.
"Their fine grain show the age and history as if one has traveled back far in ages," she said. "The texture and color are so delicate and bright, we only need to apply a thin layer of polish to let its unique beauty stand out."
The custom-made high ceiling is Ming-style. The windows are also dressed in Ming-Style wood curtains, in a pattern of overlapping squares.
The walls are decorated with reproductions of famous traditional Chinese paintings from the collection from The National Museum, while fine hand-painted light fixtures are made from Jinde fine porcelain.
All this makes it easy to feel like you are sitting in the courtyard of an imperial palace, or perhaps in one of its gardens.
Culinary Talent
Master chef Zizhao Luo, from Canton, is on a mission to restore Chinese traditions through culinary art, creating harmony and balance while extracting vibrant colors and taste.
Luo is both an artist and a scientist. He understands the properties of the ingredients and knows how to keep their integrity. Like all things in the universe, ingredients are believed to have properties of yin and yang. Some have more yin and others have more yang. Cooking methods are also related to yin and yang. For example, frying is yang and steaming is yin.
Some of the traditional cooking techniques were lost during the Cultural Revolution, while in modern-day China, traditional techniques, which can be complex and expensive, have been sacrificed.
One of the challenges in Chinese cooking is how to preserve the natural and fresh flavors of the ingredients. Confucius said, "Treat your food you would your family—gently." This philosophy guides the kitchen at Radiance, where the most traditional dishes are also the most simple. This method is applied and adjusted according to local ingredients. The combinations of ingredients are prepared so as to be as healthy as possible—following another Chinese saying: "Food is medicine, and medicine is food."
For example, Luo said the most traditional way of cooking a fish is to steam it with a touch of salt to keep it simple, clean, and pure.
"I have always loved eating, since I was born, and I … greatly appreciate what nature offers us," Luo said. "As a child, I have always been fascinated by how each ingredient can be cooked in so many different and delicious ways."
At age 15, he went on to attend one of the most esteemed and traditional cooking schools in China, and by age 21, his skill and tremendous passion gained him a position as managing and executive chef of prestigious hotel Kai Kong in Beijing. He has since amassed 30 years' experience as a master chef in various upscale restaurants and hotels in China.
The Menu
We started with the Steamed Egg Custard with Chilean Sea Bass ($15). It was very light and elegant in flavor with a silky and smooth texture. The rich flavor of the sea bass blends into the light egg custard, and is very satisfying. Look for the fine, thin slices of ginger topping off the fish.
Then came the Steamed Fish ($22), a simple dish topped with a crunchy blend of ginger and scallions. It was heavenly, although you couldn't go into contemplation too deeply as this fish came with bones. Although the fish was steamed, it had the texture of being flash-fried. It was fluffy, light, and fantastic—like biting into an airy marshmallow.
We also had the superbly flavored Lobster in creamy yellow broth. The delicate sweetness of the tender lobster meat with the vibrant sauce was a delight.
The rest of the dishes were items that I don't enjoy when I order them at local Chinese eateries, but here they are heavenly. The Barbecued Pork Bun ($6) was out-of-this-world. I can never have enough of them.
The assortment of steamed dim sum, a combination of dumplings and shumai were also unlike any I have tried. For vegetarians, I highly recommend the vegetarian jiozi (dumplings), which were so creamy I thought it was stuffed with cream rather than a mélange of vegetables.
The selection of seafood shumai and roll is exceptional ($8–$9). I'll definitely be taking a group back for dim sum.
A wine list will soon be introduced.
The Chinese do not usually serve desserts, typically ending a meal with fresh fruit. At Radiance, you must end your meal with a soup like Asian Pear and Crystal Mushroom, which can be served warm or cold. The crystal mushroom soup is good for the lungs, while the pear soup balances the temperature of the body.
After much lingering, it was closing time. We wanted to savor every part of the experience—from the ambiance to the food to the hospitality—all in harmony.
As for advice to aspiring young chefs, chef Luo offered these words: "If you want to learn cooking, you must find inner peace and calm yourself, because when you are in this state, your food will taste better."
Radiance
208 E. 50th St.
212-888-8060
www.radiancenyc.com
Monday: 11:30 a.m.—10 p.m.
Tuesday to Saturday: 11:30 a.m.—10:30 p.m.
Sunday: 11:30 a.m.—9:30 p.m.