In the age of Facebook, the pejorative term "clickbait" gets thrown around a lot—more so with political journalism.
MSNBC's Rachael Maddow may have won the unofficial 2017 prize for "worst clickbait of the year." And it's only March.
It was supposed to be the biggest scoop. Democrats and never-Trumpers have pilloried Trump for not releasing his tax returns. You'll see the demand in Facebook posts and comments below reports.  Since last year, another narrative has been waved: "Trump hasn't paid any taxes in the last 18 years." Maddow, a frequent Trump critic single-handedly destroyed it in a few tweets and one TV episode.
On Tuesday, Maddow built up the story with a tweet to her 6 million followers: "BREAKING: We've got Trump tax returns. Tonight, 9pm ET. MSNBC. (Seriously)."
BREAKING: We've got Trump tax returns. Tonight, 9pm ET. MSNBC.

(Seriously).

— Rachel Maddow MSNBC (@maddow) March 14, 2017
Maddow claimed she received two pages of documents she received from a Washington, D.C.-area reporter. The details she eventually reported came from a 1040 form in 2005, showing Trump paid more than $38 million on around $150 million in income, meaning he paid about 25 percent in taxes for that year. When she eventually revealed the tax form, she struggled to make the two pages seem interesting, which came after about 15 minutes of preamble.
The response on Twitter was overwhelmingly negative, with many saying Maddow pushes "fake news" while engaging in shady, clickbait tactics. On the latter point, they're not wrong.
Even CNN, the most frequent target of Trump's ire, couldn't help itself: "Rachel Maddow's epic buildup to … 2 pages from Trump's 2005 tax returns."
However, it's worse than that. There's a phenomenon that has emerged in reporting on Trump's campaign-turned-presidency—distraction.
For example, when Secretary of State Rex Tillerson was being grilled by the Senate for his position late last year, Trump met, and took photos with, rapper Kanye West. For a few days, it was all media outlets could talk about. There was little focus on Tillerson.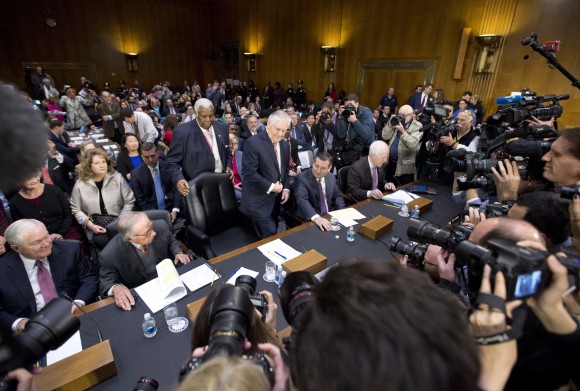 Every real or imagined scandal, every off-kilter remark, and every allegation is quickly forgotten. Remember that narrative about Trump campaign aides contacting Russian officials? The media quickly moved on from that. Remember when legacy outlets, in concert, were publishing stories that described right-wing news outlets as pushers of "fake news?" Trump and his supporters hijacked it. Trump's travel ban is unconstitutional? It was all anyone could talk about for a week but it too has all but fizzled out. There have been so many, it's hard to remember them all.
The point is: while Trump is being criticized in the press, their narratives aren't sticking to him for long, so they have to keep their foot on the gas to focus on every perceived mistake.
Former Clinton press secretary Brian Fallon and other Democrats noted his returns are distracting the public and simultaneously shifts the media focus from repealing Obamacare to his tax forms: "Dems should return focus to Trumpcare tomorrow & the millions it will leave uninsured, not get distracted by two pages from '05 tax return."
Dems should return focus to Trumpcare tomorrow & the millions it will leave uninsured, not get distracted by two pages from '05 tax return

— Brian Fallon (@brianefallon) March 15, 2017
While some pundits, namely MSNBC's "Morning Joe" host Joe Scarborough on his Tuesday morning program, claimed that Trump himself leaked the 2005 tax return.
Worse yet is the accusation that's been floating around social media for months that Trump is a "fraud" and isn't really a successful businessman, but the report on his 2005 tax return appears to disprove that.
The revelation also suggests Trump paid an income tax rate—25 percent—far higher than his critics have claimed. What's more, it was then noted on Twitter that Obama last paid a 19.5 percent tax rate and Democratic presidential candidate Bernie Sanders paid a 13.5 percent tax rate.
The White House responded to Maddow's story: "You know you are desperate for ratings when you are willing to violate the law to push a story about two pages of tax returns from over a decade ago."
.@WhiteHouse statement on Maddow show @realDonaldTrump tax return via @ewstephe pic.twitter.com/nP8Z0o94p6

— David Shepardson (@davidshepardson) March 15, 2017
The statement  continues: "The dishonest media can continue to make this part of their agenda, while the President will focus on his, which includes tax reform that will benefit all Americans."
Views expressed in this article are the opinions of the author and do not necessarily reflect the views of The Epoch Times.