Quinn, Thompson Campaign on New Ideas
September 5, 2013 8:28 pm Last Updated: October 1, 2013 10:09 am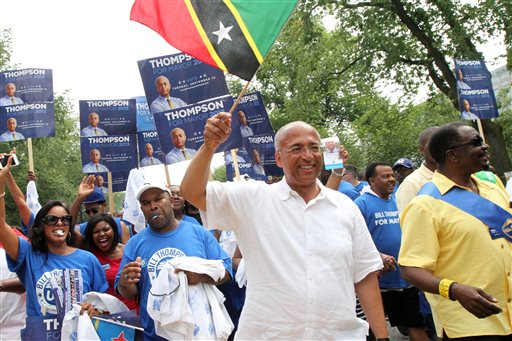 NEW YORK—Of the three candidates vying for the top two spots in the Democratic mayoral race, Christine Quinn and Bill Thompson introduced new ideas for their administrations on Thursday.
Meanwhile, front-runner Bill de Blasio was enjoying huge crowds of media and supporters at 125th Street and Lenox Avenue in Harlem in the afternoon of Sept. 5 after spending the day greeting voters. His campaign schedule has looked much the same in this final week before the Sept. 10 primary: get out and greet voters and continue to spread the same message his campaign has spent months cultivating.
Thompson and Quinn are in a fierce battle for the No. 2 spot, a spot they can fill only if there is a runoff. De Blasio was at 43 percent in the most recent Quinnipiac poll, exceeding the crucial 40 percent needed to avoid a run-off.
On Thursday morning, Thompson introduced a new proposal, which would give all city students their first year of college free at the City University of New York. He said he would pay for the idea with money from the sale of taxi medallions.
Just five days before an election, it is not unusual to talk about ideas your campaign has already put out, but to introduce new ideas is a telling sign.
Thompson dismissed the idea the introduction of the plan had anything to do with the poll numbers, saying he's been considering the idea for weeks.
Quinn, who was the long-time, previous front-running candidate, has found herself in third place in the recent polls. On Aug. 27, she rolled out her First 100 Days campaign, and has unveiled a new first 100-days promise nearly every day since then.
On Thursday she promised to provide non-English-speaking small-business owners support by offering translation services during city inspections, as well as small-business resource centers.
The ideas, while previously unannounced, tend to be more specific ideas added to her already laid out platform.
De Blasio began his campaign by laying out his policies in late 2012 (his pre-kindergarten plan was announced in October 2012), and has been the best at making his message clear to voters, specifically regarding issues important to voters like the NYPD practice of stop and frisk.