Quinn Proposes Relief From Fines, Grading System, for City's Restaurants
July 10, 2013 6:03 am Last Updated: July 10, 2013 9:53 pm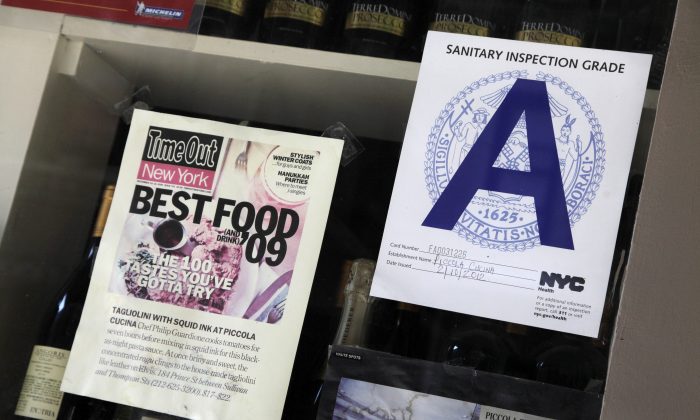 NEW YORK—Restaurant owners may soon get some relief. 
Since the city's A, B, C grading system started in 2010, an increase in fines for New York City restaurants due to health code violations have cost the industry an additional $40 million. Being required by law to display the large black letter grades at the entrance for discerning patrons to see, restaurant owners are anxious not just about the fines—but the difficulty of earning an A.
"Fines should not be about revenue generation," said Council Speaker Christine Quinn at a press conference on July 8 at Jerry's Cafe in Lower Manhattan. Quinn has proposed legislation that is expected to shrink the fines back to where they were before the new grading system went into effect.
Implemented to reduce food borne illness and keep the public informed, the grading system led to more frequent inspections and fines. As fines increased, tension between restaurant owners and inspectors also rose. "Every time [an inspector] walks in the door, we just don't know what is going to happen," said Leonard de Knegt, owner of Jerry's Cafe.
The legislation aims to shift the inspector-owner relationship from antagonism toward collaboration. The bill would offer restaurant owners a chance for educational, ungraded inspections, so owners can learn what to do to get an A. New restaurants would get free consultation inspections. First time violations would be issued as warnings, not fines; fines would be reduced across the board. The legislation will be introduced this summer, or at the latest, in the fall, said Quinn. 
City Council sponsors of the legislation want the health department to work more closely with restaurant owners to help them know the code and meet it. More focus on food safety, and less on fines, is good for patrons and restaurants. "It's not 'got ya,' it's working together," said Quinn.
Restaurants have complained of getting conflicting instructions from inspectors, and citations for non-food-safety related violations, such as misplaced signs, and dim lighting.
Forty restaurant owners filed a lawsuit against the city on June 11, for $150 million. The suit calls the grading system an unfair tax on small businesses and alleges the Department of Health's grading system is unconstitutional.