Quinn Predicts Stringer Victory Over Spitzer
July 8, 2013 12:29 pm Last Updated: July 8, 2013 1:10 pm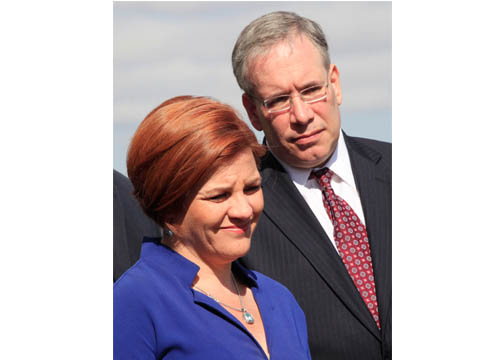 NEW YORK—With two new entrants into the race in the last few weeks, including the bomb-shell announcement by former Governor Eliot Spitzer on Sunday evening, the race for comptroller has gone from a "shoe-in" for Scott Stringer, to a hot race.
Despite the new competition, City Council Speaker Christine Quinn, who is also running for mayor, still thinks Stringer is a shoe-in.
"Scott Stinger will be the next comptroller of the City of New York," Quinn told reporters at Jerry's Café in Lower Manhattan on Monday. "That will be a good thing for New Yorkers."
Spitzer, who resigned from his post as governor in 2008 after articles surfaced he was a client of an escort service, Emperors Club VIP, is the second candidate this election season who has a sex scandal in their past. Anthony Weiner, who is facing off against Quinn in the Democratic primary for mayor, resigned from Congress after he lied about sending illicit pictures of himself on Twitter.
"Running for office in NYC is a serious thing because it is really important. It is important to our future of the city of New York," Quinn said.
"I believe in second chances as much as anyone else. In all aspects of life, particularly in elected life, you have to earn second chances, not just ask for them," Quinn said.
She questioned if Spitzer or Weiner had earned a second chance.   
"What have they been doing since their dishonest behavior? I don't think we see all that much from either of these men that would put them in a position where they would have earned a second chance redeeming themselves from their selfish behavior and deserve a second chance by New York City voters."
Stringer has applied for funding through the city's campaign financing system, while Spitzer has opted to bypass public money in favor of using his personal fortune to fund his campaign. Quinn said money would not matter in the race.
"You can have all the money in the world, Scott Stringer is an outstanding candidate who will be the comptroller, not withstanding how much money someone may or may not put up against him," Quinn said.
Additional reporting by Nick Zifcak.