Queensland has decided to scrap PCR testing for travellers prior to entering the state, switching to the more convenient rapid antigen tests (RAT).
In a social media post on Wednesday morning, state Premier Annastacia Palaszczuk said, "From Jan. 1, travellers into Queensland from interstate hotspots can use a negative rapid antigen test to satisfy border pass requirements. A PCR test will no longer be required."
Queensland, and several other jurisdictions, previously required domestic travellers take a PCR test for COVID-19 and receive a negative result within 72 hours of crossing the border.
The latest decision comes after the Queensland government on Tuesday did away with a requirement for travellers to receive a PCR test on the fifth day of their visit.
State Health Minister Yvette D'Ath said the decision was based on data in the past 24 hours, which prompted the chief health officer to advise for the tests to be cancelled.
"Anyone who is waiting in lines for their day five tests can leave," D'Ath said.
Recent data also showed only 0.6 percent of positive cases were being picked up by the test.
The quick removal of all PCR testing for interstate travellers to Queensland has come amid increasing pressure from other states.
A combination of Christmas travel demand, testing requirements on travellers, the emergence of the Omicron strain, and essentially free testing for residents (PCR testing is subsidised by the government), has seen hundreds of thousands of Australians line up at testing sites resulting in major disruptions to the health system and travel plans.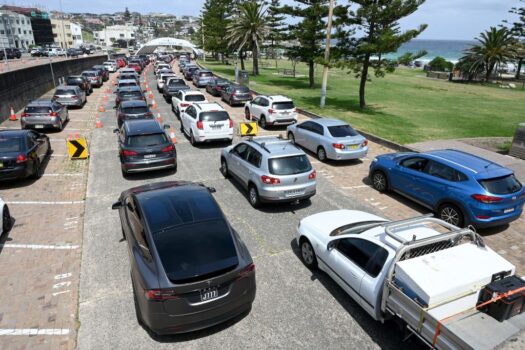 Some individuals have reported being turned away from clinics, while others have been forced to wait hours in line.
The processing of test results has also been met with delays with some people receiving their results several days after the test, cutting into the 72 hour timeframe to cross the border—this has seen some travel plans cancelled or postponed.
At a press conference on Tuesday, Premier Dominic Perrottet of neighbouring New South Wales (NSW) revealed that he had continually called on state leaders to remove PCR testing as a condition for entry into their jurisdictions.
"It is clogging up the system." Perrottet said. "It is putting people in lengthy queues that are not necessary."
"We obviously would continue to ask here in NSW, for our people who are going to Queensland on holiday … please can you reconsider that decision?" he said.
"If we can move that PCR requirement to a rapid antigen test requirement, that will significantly alleviate some of the pressure on the testing over summer."
At the same time he thanked South Australian Premier Steven Marshall for also axing their PCR test requirement.
Visitors must still be fully vaccinated, or must quarantine in government-arranged accommodation for 14 days at their own expense.