Police have warned Australians in the popular holiday destination of the Gold Coast that any attempts to use fake COVID-19 vaccination certificates will not be tolerated.
Queensland Police Service (QPS) told the Gold Coast Bulletin that once the health order comes into force on Dec. 17, any person who attempts to use fraudulent vaccine certificates to get into venues required to check for the vaccine status could face up to 6 months in prison.
"Police are aware of people posting information online as to how to falsely share vaccination certificates," QPS said in a statement on Wednesday.
"Anyone who tries to exploit new compliance measures by falsifying their own information is putting others at risk."
From Dec. 17, the state of Queensland requires a wide range of businesses to verify the vaccination status of their patrons. Most hospitality and entertainment venues will be prohibited under law from allowing unvaccinated people entry.
The state has already mandated that businesses must use its Check In Qld smartphone app and display signage for customers to scan a QR code upon entry to the premises.
The check in app can now be linked to an individuals' Medicare account to import their vaccination certificate. If they're fully vaccinated, it will display a big green tick when they check in, which staff are required by law to check. The background of the app will remain orange if the person has only had one dose or none.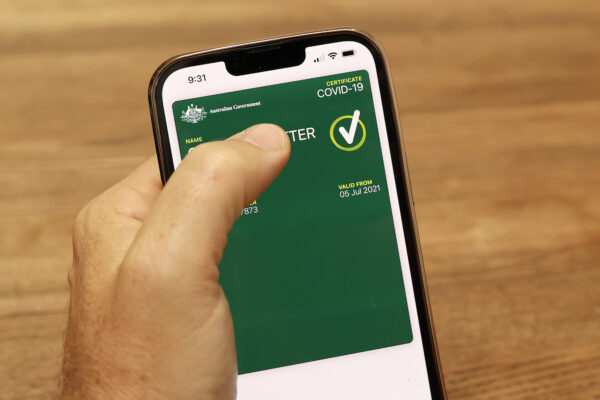 It will be a criminal offence, punishable by up to six months in prison if people use a vaccination certificate that is not their own, police said.
"Any venue which suspects someone may be providing fraudulent information is encouraged to report the matter to Queensland Police Service or check for a secondary form of ID."
However, Gold Coast criminal Lawyer Bill Potts told Gold Coast Bulletin that police would have a hard time policing compliance given they had more serious crimes to attend to.
He also said that many businesses would have an "economic imperative" not to ignore the law.
The mandates around the COVID-19 vaccine apply to hotels (including hostels, backpackers, boarding houses), pubs, clubs, taverns, bars, restaurants (including fast food) and cafes.
Additionally, the ban extends to nightclubs, live music and karaoke bars, concerts, theatres or cinemas, casinos, sports stadiums and theme parks.
Unvaccinated people will also be denied entry to music festivals, sports centres, swimming pools and events such as marathons, as well as universities and TAFE's and government venues, including libraries.
Essential services will remain open for both unvaccinated and vaccinated people to access. This includes supermarkets, public transport, places of worship, and funerals.