Queensland Premier Annastacia Palaszczuk has signalled a potential divergence from Australia's national plan to reopen internal borders once 70-80 percent of people are fully vaccinated. Instead, she indicated she would keep Queensland's border to New South Wales (NSW) closed until children under 12 are vaccinated too.
"I honestly believe that we need to have further research done on what happens to the zero to 12-year-old cohort as they remain unvaccinated," she said in Queensland's Parliament on Wednesday.
Her comments seemed to cast doubt on the Doherty Institute modelling, which forms the basis for National Cabinet's national plan to reopen Australia in phases triggered by vaccination thresholds being achieved. The National Cabinet is an intergovernmental body made up of state and territory leaders and the prime minister.
The premier said she doesn't want to see Queensland's hospitals "overrun" with COVID-19 patients. "You open up this state, and … you let the virus in here, and every child under 12 is vulnerable," Palaszczuk said.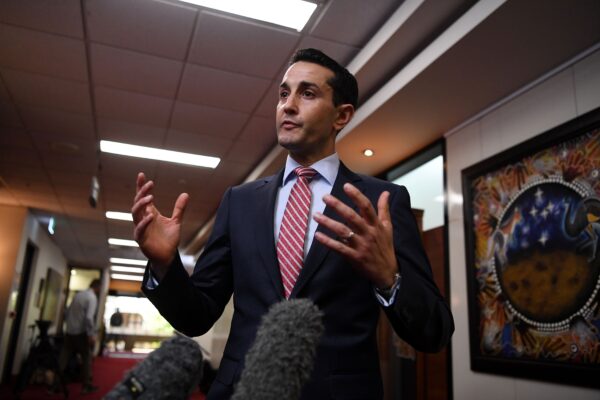 Meanwhile, Queensland Opposition Leader David Crisafulli has accused the premier of playing "pandemic politics."
Crisafulli told Sky News Australia that Queensland LNP would hold Palaszczuk to account, saying there would, in fact, be "a light at the end of the tunnel" for Queenslanders once the vaccination targets are met.
"In the absence of a bit of leadership from the premier, allow me to provide it for the people of Queensland—go and get vaccinated," he told Sky News Australia on Sept. 2.
He said Queensland was at the "back of the pack" in the vaccine rollout due to "mixed messaging" by the premier and the failure to roll out mass vaccination hubs. In addition, Queensland Chief Health Officer Jeannette Young has twice advised against young people taking the AstraZeneca vaccine due to side effects, going against the national health advice.
With a shortage of Pfizer but an abundance of AstraZeneca, there are now calls for people to get immunised with AstraZeneca to speed up the vaccination rate.
Palaszczuk called for more modelling from the Doherty Institute, saying its modelling was done before NSW had over 10,000 new cases of COVID-19 and didn't factor in children.
Meanwhile, Australian federal Treasurer Josh Frydenberg said Palaszczuk's position was not consistent with the national medical advice and called on state leaders to stick with the national plan to open up once 70-80 percent vaccination rates are achieved.
"We do know that kids can get [COVID-19], but we also know from the medical experts that the virus is much less severe, the illness is much less severe in kids, and that the vaccine has been approved for those who are 12 to 15, as well as, of course, the 16 plus population," he told Nine's Today show on Sept. 2.
Frydenberg wants Queensland to open up at the same time as the rest of the country. "You have to learn to live with [COVID-19]," he warned.