The Queensland government has denied that vaccine mandates have contributed to the delay of the start of the new school year after it began standing down teachers once the deadline passed for a survey to determine who was vaccinated.
This comes as the Australian state has seen a surge in COVID-19 cases since the state opened its borders to vaccinated travellers on Dec. 13 last year. Since then, the highly transmissible Omicron variant of the coronavirus has been reported in tens of thousands of vaccinated and unvaccinated people.
"The delay to the start of the 2022 school year is not related to vaccine mandates in any way," a spokesperson for the Queensland Department of Education said in a statement to The Epoch Times on Jan. 12.
The state government cited the projected peak of the Omicron wave ripping through Queensland as the reason it would delay the start of the new school year by two weeks, pushing it out from Jan. 23 to Feb. 7.
"This is to help avoid schools opening during the peak and also allow more time to get as many 5 to 11 year-olds as possible vaccinated," the spokesperson said.
But Red Union, which describes itself as a union by teachers for teachers, has said the real reason the school term was delayed is because of the vaccine mandates.
"It's more about trying to get more and more teachers to just comply with the direction and bullying them and coercing them into doing as they say," outgoing Red Union Secretary Jack McGuire told The Epoch Times on Jan. 12.
"Because for a lot of people, it's quite frightening, and rightly so, quite a frightening experience to go through getting a show cause [notice] and disciplinary action being taken by your employer where your career is being threatened. Anyone with a mortgage would find that quite frightening."
McGuire said Red Union was currently assisting approximately 1,500 impacted Queensland teachers but said he understood there to be around 5,000 education department employees in the same situation.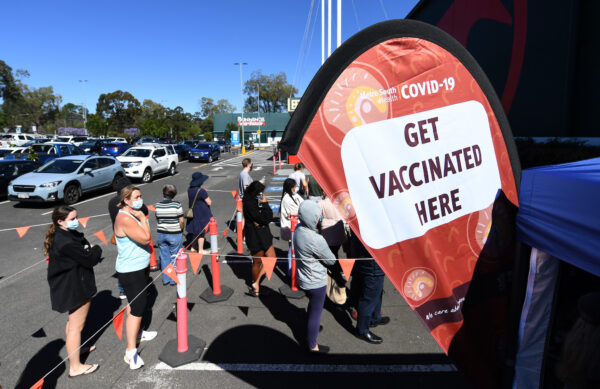 Meanwhile, the education department has said it is "very pleased" by the vaccination rate of staff who were impacted by the mandate.
"Over 95 percent of school-based staff have now provided their vaccination status, with more than 98 percent of those indicating they are already fully vaccinated or will be in the coming days," the spokesperson said.
However, it was not clear how many of the 95 percent who completed the survey indicated they would not receive a COVID-19 vaccine.
One source who worked in the education sector in Queensland, and spoke to The Epoch Times on condition of anonymity, described the survey as being multiple choice.
"When you clicked on the link it automatically had your name and your employee ID number and then there were four or five choices of your vaccination status," the source told The Epoch Times on Jan. 12.
The source said the choices were that you were either fully vaccinated with two doses, partially vaccinated with one dose, or that you indicated your intention to get vaccinated or not.
"Most people are vaccinated. How is it all the sudden a high risk? And how are the unvaccinated people a risk to anyone who's vaccinated? The vaccination is supposed to protect you. So how is that a risk in any stretch of the imagination?" the source added.
McGuire echoed this point, saying that Omicron has demonstrated that "vaccination clearly hasn't slowed down the spread."
"If we're that worried about Omicron, we should have rapid antigen testing at the school gate for everyone, whether you're vaccinated or not vaccinated, given the level of spread that's coming out of vaccinated people," he said.
"So if you want to keep COVID outside the school gates, you got to do it through testing, not through vaccination."
In correspondence from the department, seen by The Epoch Times, staff were told the chief health officer had issued a "COVID-19 Vaccination Requirements for Workers in a high-risk setting Direction."
The health order would affect "anyone who works in, undertakes an educational placement, or volunteers in a school, early childhood and care service (such as a kindergarten or Outside School Hours Care) or childcare centre is considered a worker in an education setting."
From Jan. 10, the education department began to send letters to staff "who have not confirmed their double vaccination status" asking them to provide a "valid reason why they should not be suspended from duty without pay."
Red Union has published a step-by-step guide to assist members to navigate the legal process of responding to and challenging any show cause, suspension, or termination notices handed down by the education department as a result of the vaccine mandate.
In December, Red Union announced on Telegram that it was receiving a "large number of calls" from people with questions about the process, noting that their phone lines were so busy receiving calls from worried teachers that it was affecting their ability to help others.
At the time, the education department was regularly sending staff the COVID-19 survey, with a source describing it as "spamming" when they received three emails in one day.
Staff were told that if they "fail to provide" their vaccination status by Jan. 7, that from Jan. 10, they would be asked to "show-cause why you should not be suspended without pay," according to a department email seen by The Epoch Times.
"This date has been selected because staff who have not received a first dose by this date will not be able to receive a second dose by 11:59 pm on 23 January 2022," the email stated.
Queensland teachers were required to receive their first dose of a COVID-19 vaccine by Dec. 17 last year to ensure they'd be eligible for a second dose prior to Jan. 23, when the school year was originally meant to begin.
On Jan. 12, the department spokesperson said the deadline for school-based staff to get vaccinated was Jan. 23.
Since sending the Notice of Suspensions to non-complying staff, the department spokesperson said they expect the vaccination rate "will rise further as we approach" Jan. 23.
In the meantime, the department spokesperson said that where schools do have unvaccinated staff, it is limited to one or two people.
"In addition, the department has access to approximately 5,000 fully vaccinated relief teachers who are ready to work in state schools if required," the spokesperson said.