Queen Elizabeth II did not meet Virginia Roberts, the woman who has come forward to claim that she was forced to have sex with Prince Andrew when she was underage.
Roberts, now 30, says she was a "sex slave" of billionaire financier Jeffrey Epstein, and was forced to do whatever Andrew wanted. The prince is a friend of Epstein's. 
There have also been claims that the Queen, the prince's mother, met Roberts while on a trip to London with Epstein, but Buckingham Palace has insisted that none of the claims are true. 
"There is nothing to suggest that this claim is true. We have no record of such a meeting," a palace spokesman told the Daily Mail.
Virginia's father Sky, 58, said that he was aware of his daughter's connection with Epstein but thought things were on the up-and-up between them. 
"Mr Epstein seemed an upstanding kind of guy. She would go to his house in Palm Beach but always come home. When he started flying her all over the world we just thought what a life she was having … All Virginia ever said was that she was hired to give massages," he said.
Virginia says that she was brought into the sex ring through her interest in wanting to become a masseuse, but quickly became more than that.
Her father also recounted how his daughter told him she met the Queen. 
"Virginia told me a few years back that she met Prince Andrew when she went to London and she also said while they were there she met the Queen," he said.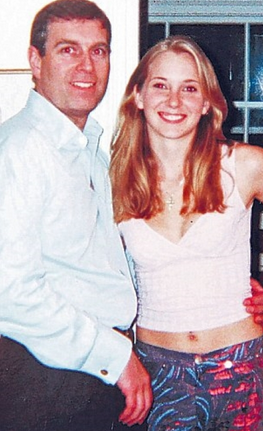 "[Virginia] had been flown to London by Jeffrey. He would fly her all over the world and she would give him massages on his private jet."
Though the Queen offered only the short statement of denial in public, sources told the Mirror that she is "horrified" over the widely circulated claims that Roberts was forced to sleep with Andrew three times. 
"The Queen will be totally appalled by all this. I would imagine she feels hard done by on Andrew's behalf for this slamming he is getting and for all the ­allegations. We are told Andrew is her favorite son and there is a close bond," one royal observer told the outlet.
"She has guided him through stormy waters before and the Epstein thing is something that keeps coming back to haunt them. They must think that they've seen the last of it but it's a ­recurring nightmare as far as the Queen and the Duke of York are concerned. Inevitably this will cause damage to the monarchy. I think it's going to get messier before it gets better."