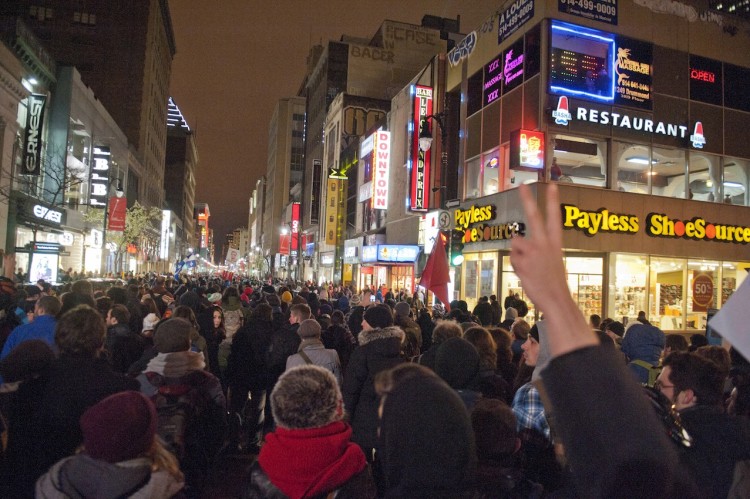 A massive student protest continues in Quebec with no end in sight after the largest and most militant student group rejected a first offer from the Quebec government.
Around 165,000 Quebec students went on strike, ditching class and disrupting attempts by other students to attend class, in response to a tuition hike planned by the province's ruling Liberal party.
Now in the third month of protests, students have recently upped the ante, taking to the streets of Montreal for nightly demonstrations that have attracted tens of thousands of students.
Students are demonstrating against five years of tuition hikes at $325 a year for a total increase of $1,625. Average tuition is now $2,519, the lowest in Canada. It will be third lowest once increased the full amount.
The Liberals had categorically rejected backing down on their plans, but on Friday offered to spread the increases over seven years instead of five. On Sunday, CLASSE—Coalition large de l'association pour une solidarite syndicale etudiante, the province's largest student group—flatly rejected the offer after a vote this weekend.
Two other major student groups look set to propose counter offers, and have been open to mediation, but CLASSE has been deemed too radical to be included, said the government.
The protests have resulted in hundreds of arrests, vandalism, and threats in the form of Molotov cocktails left inside the offices of provincial ministers after windows were smashed.
Police have dispersed crowds with pepper spray and tear gas, but protests continue nightly.
The Quebec Liberal Party was set to meet in Montreal for its party general council, but moved the meeting about 200 kilometres (120 miles) away, approximately mid-way between Montreal and Quebec City, after a recent riot resulted in 80 arrests.