The Quebec government has mandated high school students to wear masks in classrooms and school grounds, gyms to be closed, and team sports to be banned in the province's "red zones" where COVID-19 infection rates are high.
Education minister Jean-Francois Roberge announced Oct. 5 that the new measures will come into effect on Oct. 8 and remain until at least Oct. 28.
"It's important to implement these new measures because we want to do everything in our power to keep our schools open," Roberge said during a press conference. He was joined by higher education minister Danielle McCann, junior education minister Isabelle Charest, and the province's public health strategic advisor Dr. Richard Masse.
Besides mandatory mask wearing for the high school students, those in grade 10 and 11 will also undergo a hybrid learning mode which requires them to attend school in-person every other day and take online lessons on the other days.
Roberge said all extracurricular activities, school trips, and competitions between schools would be suspended in red zone schools. However, gym classes and in-school sports are allowed provided the students are of the same class group, and maintain the two meters distance with different class groups.
Teachers and staff must continue to wear the masks in common areas and teachers' lounge, but they aren't required to wear them in class so long as they keep a physical distance of two meters from their students.
As of current standing, elementary students are not required to wear masks in classrooms.
Roberge said there will be a police presence at high schools "to do some awareness raising, to intervene with young people to inform them of the fact it is necessary to respect physical distancing for their safety."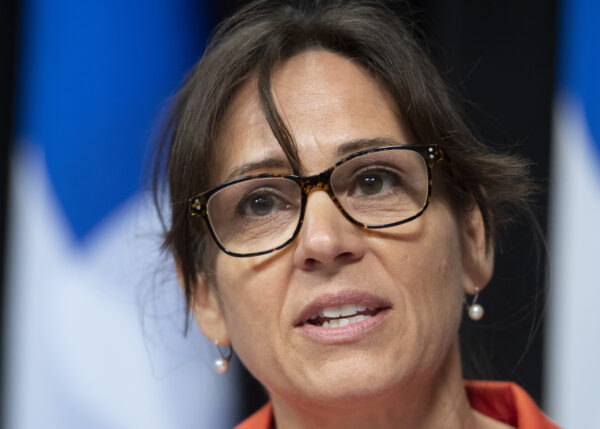 Outside of the school context, all organized leisure and sports activities are to be suspended until Oct. 28, according to the Quebec officials. Group lessons and supervised sports practice cannot be held.
The only exception is for individual training or training with their family members. Should the training involve a pair who are not from the same family unit, they must comply with social distancing measures.
"Unfortunately, gyms will have to close but I want to reassure owners you will be eligible for financial help from the Minister of the Economy," Charest said.
McCann announced that as of Thursday, higher education institutions in red zones must apply their planned emergency protocols. This means the CEGEPs and universities will have to limit their in-person classes and increase their online lessons to reduce the number of people in schools. Libraries will be limited to only book lending, and campuses will enforce a strict rule against any social gatherings. Research and laboratory activities can continue but if it's possible to do them remotely, they are to do so.
Roberge said the province will also hire about 2,000 educators, cleaners and student monitors to help up with the pandemic-related requirements.
Quebec reported more than 1,000 confirmed COVID-19  cases for three days straight from Oct. 1 to Oct. 3, with an average of four deaths per day. As of Saturday, 334 people were reported hospitalized. An average of slightly over 28,000 tests are performed between Oct. 1 and Oct. 2.
In terms of the COVID-19 situation in schools, Quebec reported a total of 2,141 cases across 785 schools since the start of the school year on Sept. 28. Of the schools, most cases came from the public schools, with private schools reporting several hundreds.
While infection rates have increased with the resumption of school, children are at statistically minimal risk. Health Canada records three deaths in Canada in the 0-19 age group over the course of the pandemic but records a 0.0 percent of total deaths for this age category.
There have been 10 COVID-linked deaths in the 20-29 age group, which Health Canada marks as .1 percent of total deaths.
The bulk of COVID-linked deaths are among those 60 and up, accounting for 96.7 percent, with those 80 years and above accounting for 71 percent of deaths. 

As of Oct. 5, the Quebec government identifies these areas to be red zones: Laval and Montreal, some territories within Laurentides, Lanaudiere, Chaudiere-Appalaches, Capital-Nationale, Gaspésie–Îles-de-la-Madeleine, Montérégie.