A Quebec restaurant is denouncing Russia's invasion of Ukraine in an unusual way: by temporarily removing the word "poutine" from its menu in a jab at Russian President Vladimir Putin.
Famed diner Le Roy Jucep, located in the city of Drummondville east of Montreal, claims to have invented both the dish and the word "poutine" in the 1950s. But the word—which the diner said was an abbreviation for servers to write "cheese, potatoes, sauce"—happens to be the French translation for Putin.
The Russian president's name is written as "Vladimir Poutine" in France, Quebec, and in other French-speaking regions.
The diner which now dubbs itself "the inventor of the fries-cheese-gravy," announced on social media on Feb. 25 that it will retire the word "poutine" for the famous Quebec dish.
"Tonight the Jucep team decided to temporarily retire the word P***tine from its trademark in order to express, in its own way, its profound dismay over the situation in Ukraine," the restaurant wrote on Facebook.
The diner later took down the post due to backlash including hateful phone calls, reported CTV News. On Facebook, Le Roy Jucep still describes itself as the "inventor of the fries-cheese-gravy."
In 2018, a young Russian couple—Masha Klimova and Alexei Kolesov—started a food truck serving poutine in their country, calling it the "Poutinerie." They met objections from some who believe it to be "making fun of the president," though Kilmova told The Canadian Press that was "only a minority of people" that held that view.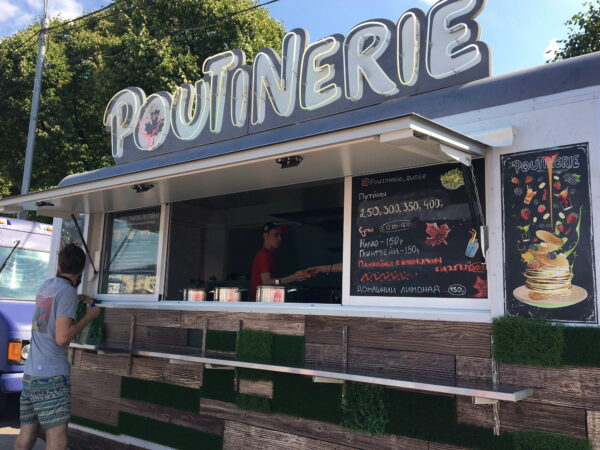 Le Roy Jucep's decision to drop the name poutine comes amid an escalation of the Russian-Ukrainian military confrontation. On March 1, five people were killed and another five were wounded after Russian missiles struck a television tower in Kyiv.
Dozens of people commented on the diner's Facebook page, complementing its gesture.
"Beautiful gesture of support," one individual wrote in French.
"It was so easy to understand your intention: to make people aware of what Ukrainians are going through and to have a thought for them. It takes absolutely nothing away from removing this word from your menu," another person also wrote in French. "I found your initiative compassionate"
In an interview with French-language news channel ICI RDI, an unnamed woman living in Ukraine thanked the restaurant for "de-Putinizing" the dish. The diner shared the interview on their Facebook page on Feb. 26.
"Very touching to learn that our tiny message of support has made it from Drummondville to Ukraine!" the restaurant said in French.
"If we could make someone smile there, that's already a win! We are with you from the bottom of our hearts."