Quarter of Canadian Students Undecided on College, University: Survey
Qualifying and paying for post-secondary education among students' major concerns
September 4, 2013 11:48 pm Last Updated: September 5, 2013 7:30 am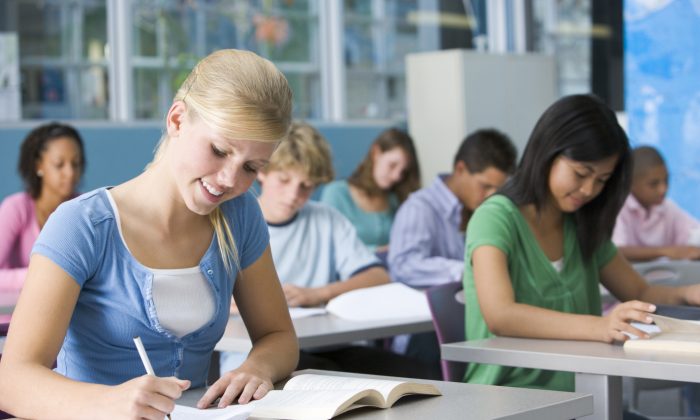 A new survey has found that with the start of the school year, close to a quarter of high school students are undecided on whether they will attend college or university—despite feeling enormous pressure to succeed academically.
The survey also found that about 20 percent of students have no concrete future plans.
Conducted by Ipsos Reid on behalf of Big Brothers Big Sisters of Canada and CIBC, the poll surveyed 803 returning high school students across the country between July 22 and 26, with equal representation of grades 10, 11, and 12.
Concerns, Sources of Stress
The survey findings also suggest that high school students are aware of the economic realities of today's job markets and a majority (63 percent) are concerned about doing well enough to qualify for college or university.
The three main sources of stress identified by the survey include students finding a job in their chosen field (68 percent), pressure to qualify for post-secondary education (63 percent), and not having the financial resources for college or university (51 percent).
Girls are more likely than boys (65 percent vs. 56 percent) to worry about "heading off into the great unknown," the survey found, as well as having sufficient funds to pay for post-secondary education (56 percent vs. 46 percent).
Close to half (42 percent) think they will need a student loan for their post-secondary education, while 36 percent said they aren't sure if they'll need loans or not.
A great majority (91 percent) said governments should do more to help graduates pay off their student loans.
Majority Confident in Academic Ability
Despite these concerns, the poll found that overall, students seem enthusiastic about returning to high school and over 90 percent are confident in their ability to succeed academically in high school.
Having a mentor is deemed to be an influential factor in academic success, as 88 percent of survey respondents said students with mentors are more likely to succeed than those without one.
"We may think Canada's high school students are carefree and not worried, but the fact is they're not," Bruce MacDonald, president and CEO of Big Brothers Big Sisters of Canada, said in a press release.
"Given the pressures of high school life and so many students being unsure about pursuing higher education, mentoring is more important than ever," MacDonald said.
A concerning finding of the survey was that half of students (49 percent) think bullying is a problem in their school and 70 percent say school authorities should do more to stop bullying.