Quantifying Hudson Yards: NYU and Related Companies Team Up to Create a Smart Neighborhood on Manhattan's West Side
April 14, 2014 4:10 pm Last Updated: April 15, 2014 6:47 am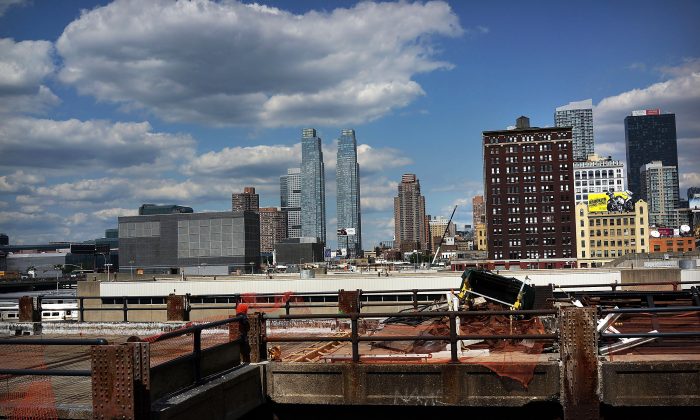 The 28-acre megablock coming to Manhattan's West side will be the first quantified community of the nation. New York University's Center for Urban Science and Progress (CUSP) is partnering with Related Companies and Oxford Properties Group to measure and create a data-driven experience for the tenants and owners-to-be of Hudson Yards. 
Retailers would know where foot traffic is coming from and track responses to promotions, a related spokesperson said. Commercial tenants would be able to track energy consumption and drive down costs. 
"The ability to conceive of and develop an entirely new neighborhood creates tremendous opportunities," stated Jay Cross, president of Related Hudson Yards. "Our cutting-edge commercial tenants are drawn to Hudson Yards for its state-of-the-art infrastructure featuring unprecedented wired, wireless, broadband, and satellite connectivity; and energy optimization through on-site power generation and central waste systems."
The list of what to measure is still in progress, but the team has a working list of examples:
Measuring, modeling, and predicting pedestrian flows through traffic and transit points, open spaces, and retail space.
Gauging air quality both within buildings and across the open spaces and surrounding areas.
Measuring health and activity levels of residents and workers using a custom-designed, opt-in mobile application.
Measuring and benchmarking solid waste with particular focus on increasing the recovery of recyclables and organic (i.e. food) waste.
Measuring and modeling of energy production and usage throughout the project, including optimization of on-site cogeneration plant and thermal microgrid.
The goal is study the community, improve it, use the data to help neighborhoods throughout the city, and ultimately improve cities across the world. 
Dr. Constantine Kontokosta, PE, Deputy Director & Head of the Quantified Community initiative at CUSP says the project will be a unique testing ground for new analytics.
"[It] will allow for unprecedented studies in urban engineering, urban systems operation, and planning, and the social sciences," Kontokosta stated. The partnership will allow CUSP to develop new technologies as well.
Some of the sensors will act passively, like tracking energy consumption, and others will provide an interactive experience and crowdsource information, Kontokosta said.