Queensland Senator Matt Canavan has said that Qantas should not force people to prove that they've been vaccinated against the CCP virus.
Instead, he thinks that travellers who don't want to take the vaccine should be able to quarantine instead. News Corp's The Australian reported Canavan's comments on Nov. 26.
"I think we should make sure we have freedom here as well," Canavan reportedly told Nine's The Today Show. "We don't want to force people to make medical decisions—that can be very dangerous," he said.
He added, "But if the vaccine works, I am sure we can make it work."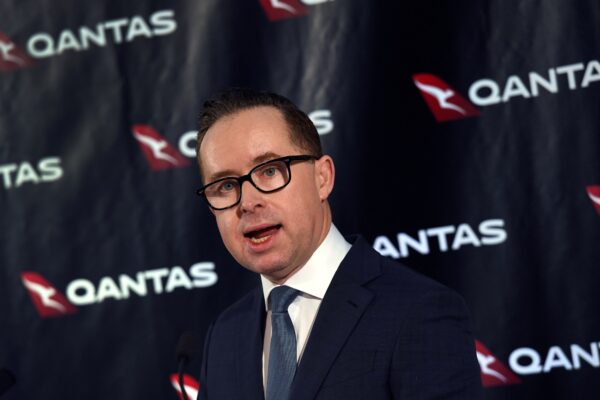 His comments come after Qantas Group CEO Alan Joyce told Nine's A Current Affairs on Monday that airline passengers would need to prove that they've been vaccinated against the virus.
"We are looking at changing the terms and conditions to say for international travellers that we will ask people to have the vaccination before they get on the aircraft," Joyce said.
When asked by a reporter about Joyce's comments, Federal Health Minister Greg Hunt said that it's up to Qantas to "outline its policies" but that the government "haven't made any decisions" about a vaccine passport.
Hunt said he and the prime minister had been in contact and "reaffirmed that today."
Nine News political journalist Chris O'Keefe has reported that the federal government is now "looking very likely" to require people entering Australia to show proof that they've been vaccinated against the CCP (Chinese Communist Party) virus (novel coronavirus).
Prime Minister Scott Morrison told Melbourne's KIIS 101.1 on Nov. 25 that it's not unusual to require travellers coming to Australia be vaccinated against yellow fever and if they're not they need to quarantine on entry.
"That's been the normal practice that's been applied," Morrison said. "We're obviously working through those issues now. But look, where people have the choice of two weeks of quarantine or being vaccinated I think that will be an incentive."
Morrison said that there are people who cannot take vaccines for "reasonable" health reasons due to how they're manufactured. He also said that Australia could expect a vaccine in the first quarter of 2021.
The health minister said the government's responsibility was to "make sure that our vaccine is available to every Australian."
International travel to some parts of the world is expected to resume late next year if a vaccine becomes available early in 2021.
The Qantas Group CEO said that he has been talking to his "colleagues in other airlines around the globe" and the mandatory vaccination rule will be "a common theme across the board."
Airlines and governments around the world are working on the comprehensive technology and logistics required to implement an electronic "vaccination passport" that will certify what vaccines a traveller has and if it's acceptable to the country to which the person is travelling. "The airlines and the governments are working on this as we speak," Joyce said.
But Joyce did not confirm whether it will be required for domestic air travel, saying, "We'll have to see what happens with COVID-19 in the market."
This article was updated to include comments by Prime Minister Scott Morrison.