WASHINGTON—President Donald Trump's nominee for labor secretary abruptly withdrew his nomination Wednesday after Senate Republicans balked at supporting him, in part over taxes he belatedly paid on a former housekeeper not authorized to work in the United States.
Fast-food executive Andrew Puzder issued a short statement abandoning the effort, saying he was "honored to have been considered by President Donald Trump to lead the Department of Labor."
White House spokesman Sean Spicer said he had no information on any possible replacement. Puzder's nomination became part of a streak of contentious confirmation battles and White House actions, including the rollout of Trump's executive order on refugees being blocked.
Sen. Lamar Alexander, who would have chaired Puzder's confirmation hearing Thursday, issued a terse statement saying the nominee would have made an "excellent" labor secretary, but "I respect his decision" to quit pursuing the post.
Puzder spokesman George Thompson said his boss was a victim of "an unprecedented smear campaign."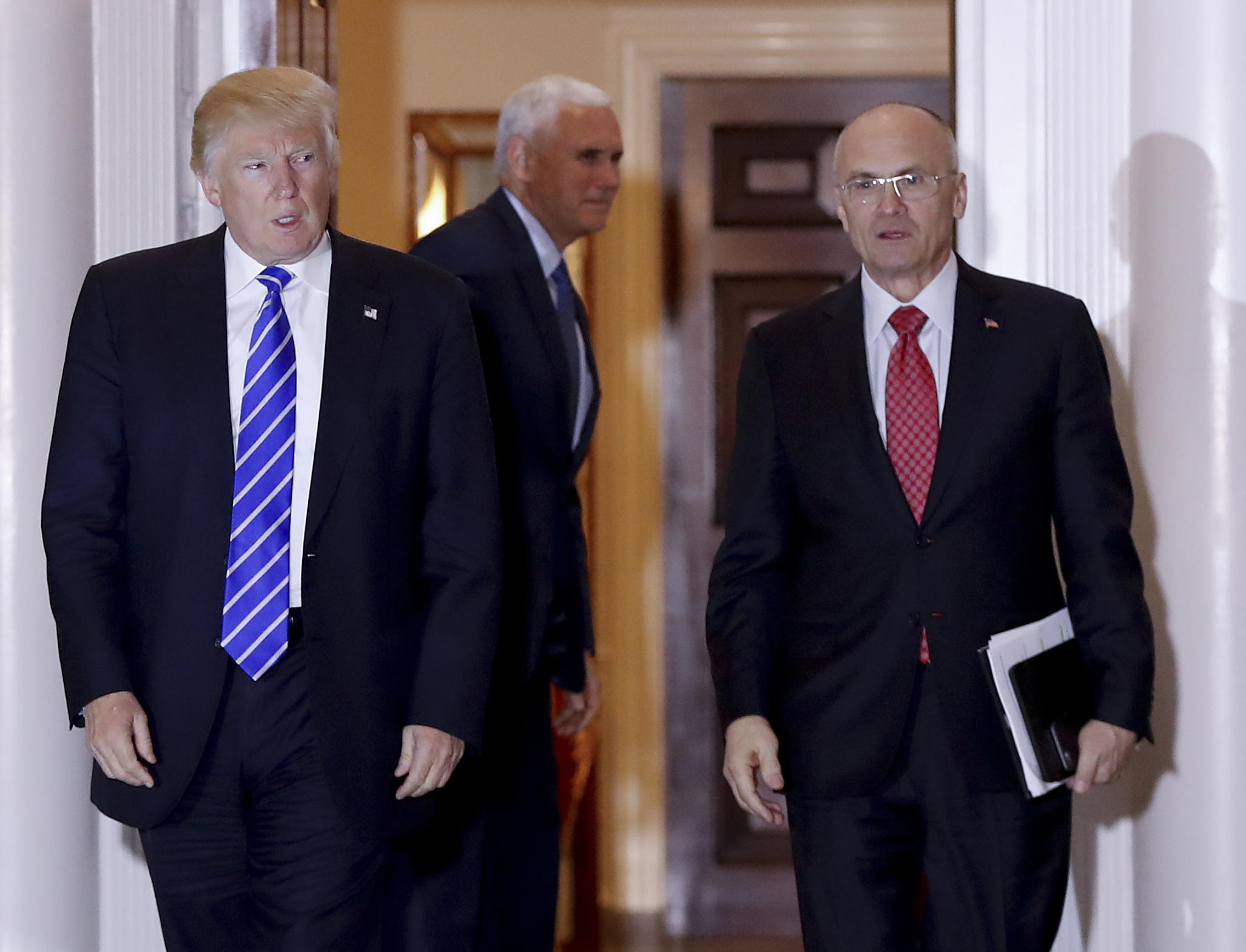 What troubled majority Republicans most of all was Puzder's acknowledgement that he had not paid taxes on the housekeeper until after Trump nominated him to the Cabinet post on Dec. 9—five years after he had fired the worker.
Ultimately, Republicans made it clear that Puzder did not have the votes for confirmation, blaming the Trump White House for failing to adequately check his background.
Democrats and their allies welcomed Puzder's withdrawal, saying his corporate background and opposition to such proposals as a big hike in the minimum wage made him an unfit advocate for American workers at the top of an agency charged with enforcing protections.
They had already made it clear that Puzder's statements about women and his own workers would be major issues at his confirmation hearing.
Democrats said Puzder had disparaged workers at his restaurants by calling them "the best of the worst." He was quoted by Business Insider as saying he wanted to try robots at his restaurants, because "They're always polite, they always upsell, they never take a vacation, they never show up late, there's never a slip-and-fall, or an age, sex or race discrimination case."
One GOP senator, speaking on condition of anonymity because the conversations were private, said six senators had asked the White House to call off Puzder's Thursday hearing because they couldn't see themselves voting for him. That would have put the nomination in jeopardy, since Senate Republicans have only a 52-48 majority and Democrats are solidly opposed.
Puzder's spokesman said the nominee had paid the taxes as soon as he found out he owed them. But the discrepancy remained a growing political problem for Republicans and the Trump White House.
Before Puzder withdrew, Sen. Marco Rubio, R-Fla., had said, "I want to hear what he has to say about that," adding that he had moved from endorsing the nominee to joining the ranks of GOP senators who weren't committing to vote for Puzder before the scheduled hearing.
Epoch Times contributed to this report.