Russian President Vladimir Putin announced on April 20 that his country has tested the Sarmat intercontinental ballistic missile (ICBM), which has been under development for years, but this comes as the conflict in Ukraine reaches its second month.
The nuclear-capable Sarmat, dubbed by NATO and the West as the "Satan II," is counted among Moscow's next-generation weapons, including Kinzhal hypersonic missiles, that have been reportedly employed in Ukraine.
In announcing the ICBM test, Putin said in a televised address that it will make Russia's enemies "think twice." Russia's Defense Ministry said via state-run media that the successful test took place at the Plesetsk Cosmodrome in northern Russia, and it was fired toward the Kamchatka Peninsula, located in Russia's Far East region.
"This truly unique weapon will strengthen the combat potential of our armed forces, reliably ensure the security of Russia from external threats, and make those who, in the heat of aggressive rhetoric, try to threaten our country, think twice," Putin said, according to a translation.
Armed with multiple nuclear warheads, the Sarmat missile can hit any target on earth, Putin said. The Defense Ministry has previously stated that the ICBM is designed to evade anti-missile defense systems and is difficult to track.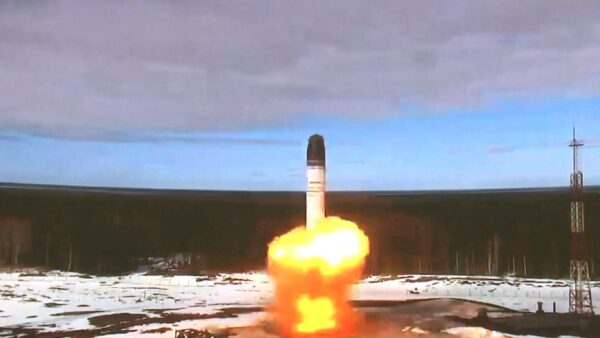 "The new complex has the highest tactical and technical characteristics and is capable of overcoming all modern means of anti-missile defense. It has no analogs in the world and won't have for a long time to come," Putin said.
The Pentagon told Reuters on April 20 that Russia properly notified the White House before it carried out the ICBM launch. Defense officials said they view the launch as routine and that it doesn't represent a heightened threat to the United States.
Days after Russia's invasion of Ukraine started, Putin said he placed his country's nuclear forces on a heightened state of alert and cited severe U.S. and Western economic sanctions as one reason why.
U.N. Secretary-General António Guterres said on March 14: "The prospect of nuclear conflict, once unthinkable, is now back within the realm of possibility."
Earlier this week, Russian Foreign Minister Sergei Lavrov told an Indian broadcaster that Russia isn't planning to use nuclear weapons during the Ukraine conflict.
Another top Kremlin official, spokesman Dmitry Peskov, late last month told the PBS broadcaster that "no one is thinking about using—about even the idea of using a nuclear weapon."
Reuters contributed to this report.