As Russia invaded Ukraine, the world is also watching China's reaction to the crisis. A Chinese analyst believes that Russian President Vladimir Putin's actions are part of a state plan that is beyond what Xi Jinping, leader of the Chinese Communist Party (CCP), was anticipating.
Yuan Hongbing, the prominent Chinese legal expert in exile, said, "Russia has its own national goals." Putin is just using Xi Jinping, he added, and Putin "can't be tied to Xi Jinping's chariot."
Putin's National Strategy
On Feb. 24 local time, Russian President Vladimir Putin announced his "special military operation" in the Donbas region in southeast Ukraine.
Earlier, on Feb. 21, Putin signed decrees recognizing the Donetsk People's Republic (DPR) and Luhansk People's Republic (LPR) in eastern Ukraine. The two republics declared their independence in 2014.
Western countries immediately responded with sanctions on Russia, and Germany also suspended the certification process of the Nord Stream 2 pipeline.
After the invasion, Western leaders imposed even more severe sanctions, including what UK Prime Minister Boris Johnson announced were the "largest ever" set of sanctions against Russia.
In an interview, analyst Yuan Hongbing told the Chinese-language edition of The Epoch Times that he believes Putin is laying out his major national strategy. That is to restore Russian territory in the Soviet era. Belarus has shown its tendency to form a strategic alliance with the Russians, and "Putin made it clear in his statement that Ukraine is an inalienable part of Russian history and culture," he said.
He used the recent unrest in Kazakhstan as an example. Russia sent troops there, which signaled "the current president of Kazakhstan has become a puppet of Russia to a considerable extent," Yuan said.
Yuan believes that Putin will implement his national strategy in phases, and so far, Russia has taken a key step on the Russia-Ukraine issue.
CCP-Russia Ties
On Feb. 4, the opening day of the Beijing Winter Olympics, Putin and Xi announced a bilateral strategic cooperation and the importation of 100 million tons of crude oil via Kazakhstan within 10 years.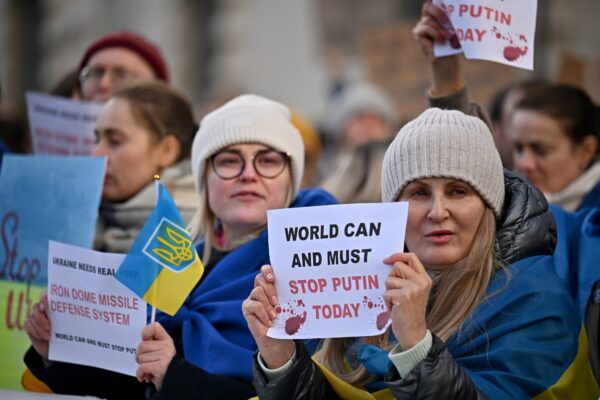 The total Russian gas flow to China will reach 48 billion cubic meters per year, Bloomberg reported. The new Russian oil and gas deals with China are worth an estimated $117.5 billion, to be paid in euros.
Yuan said that Xi Jinping has been trying to please Russia, hoping to form an all-weather strategic alliance, and support for his agenda on Taiwan. The China-Russia trade agreement was Xi's support to Putin to fight against possible economic sanctions from the West.
The joint statement claimed that "the new inter-state relations between Russia and China are superior to political and military alliances of the Cold War era," and "Friendship between the two states has no limits, there are no 'forbidden' areas of cooperation."
Yuan said "Russia has its own national target, it's impossible to tie itself onto Xi Jinping's chariot."
He cited two incidents wherein Russia has shown that it will work in its own interests, in conflict with the Chinese regime's.
One, is that Russia, with seemingly close bilateral relations with China, is India's main arms supplier despite the CCP's historical border conflict with India.
The other, is in the South China Sea. Russia went ahead with an oil drilling project with Vietnam in the South China Sea, even though Beijing has claimed the South China Sea as its core interest.
Yuan said, "It's clear that Xi has been manipulated by Putin, to serve his Russian national goals. It's Xi Jinping's wishful thinking to expect Putin's support on the military invasion of Taiwan."
CCP Diplomatic 'Stupidity'
While the Western world condemns the invasion of Ukraine and imposes sanctions on Russia, the CCP's reaction is less than clear.
In a press conference on Feb. 23, CCP Foreign Ministry spokeswoman Hua Chunying was asked if China would impose similar sanctions on Russia. She responded that China would "consistently oppose all illegal unilateral sanctions." She failed to answer the question directly, but did say that the U.S. sanctions on China have harmed the country's interests.
A day earlier, another spokesperson Wang Wenbin also evaded the question saying, "the legitimate security concerns of any country should be respected," and "China once again calls on all parties to exercise restraint."
On Feb. 19, CCP Foreign Minister Wang Yi said "the sovereignty, independence and territorial integrity of all countries should be respected and safeguarded" and "that applies equally to Ukraine."
Yuan commented that Putin has put the CCP in an embarrassing situation when the Russian leader recognized and supported the independence of two republics in eastern Ukraine. That created a problem for the CCP on the issue of Taiwan, which the Chinese regime claims as part of its own territory.
"In general, the CCP has shown its diplomatic stupidity when dealing with the Russia-Ukraine conflict," he said, "The entire CCP foreign policy is now at a state of loss."
Yuan also does not believe the Biden administration's economic sanctions will be effective in stopping the invasion. The recent enhanced economic cooperation agreement between Russia and China has made it impossible for the United States to rely solely on economic sanctions to force Russia to abandon its national goals, Yuan contended.
He said, "All authoritarian regimes believe in the law of the jungle, in which only strength counts. Therefore, it will take strong countermeasures to stop the current international crisis when dealing with the CCP tyranny or an aggressive Russia."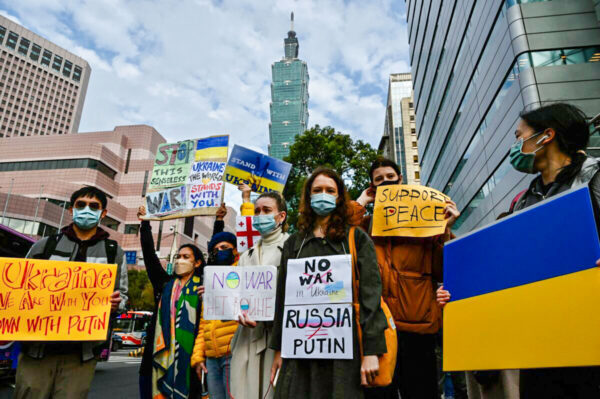 Mary Hong contributed to this report.