There is a growing public push for the federal government to free a family of Tamil illegal immigrants from Australia's offshore detention after the youngest member of the family, a girl aged three, fell critically ill with sepsis and pneumonia.
Tharnica and her mother, Priya Murugappan, were evacuated to Perth Children's Hospital in Western Australia on June 8. Priya Murugappan said that day that medical staff on Christmas Island refused to admit her daughter to the hospital after she fell sick two weeks ago.
"I want to thank everybody for their love and good wishes," Murugappan said. "I hope that Tharnicaa can get the help she needs now. Please, help us to get her out of detention and home to Biloela."
One of the families advocates here in Australia, Angela Fredericks, told Nine News that Tharnicaa was experiencing dangerous temperature spikes in the days leading up to her evacuation. Her mother had only been given pain relievers for treatment.
Prime Minister Scott Morrison said that he was appraised of the situation on June 8 and that the family would continue to receive every medical care.
"That care and where they are treated will continue to be determined by doctors, by the medical professionals who advise us on these matters," Morrison said.
The little girl's Tamil parents, Priya and Nades Murugappan, and her older sister Kopika lived in Biloela, Queensland, while seeking asylum after leaving Sri Lanka. The family was removed from their home on March 5, 2018, when the home was raided by immigration authorities, and the family was taken to immigration detention.
Greens Senator Sarah Hanson-Young has called on the prime minister to bring the family home to their community of Biloela, in central Queensland.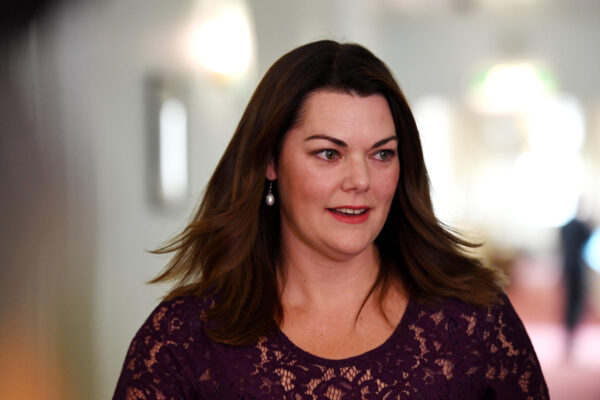 "No man's political ego or stubbornness is worth the life of a child," Hanson-Young wrote in a post on Twitter. "Prime Minister [Scott Morrison] can make a decision right now to save these two little girls and stop their suffering. It is time they were allowed to come home to [Biloela]."
Queensland Nationals Senator Matt Canavan has told the Nine Network's Today show that he is worried that it will set a dangerous precedent if the government resettles the family.
When you start making those sort of variations or rules for one family, why not another?" Canavan said. "They are not the only family in these sort of circumstances that have been caught up through the strict policy in the past decade."
"It is very tough. But if you set one rule or precedent for this family, then you would be pressured to do it for more."
The Department of Home Affairs has said that the family's claims asylum claims have been "comprehensively assessed on a number of occasions by the Department of Home Affairs, various merits review bodies, and appealed through multiple courts, including the Federal Court to the High Court."
"At no time has any member of the family been found to be owed protection," a spokesperson said. Before the medical emergency, the family, backed by many sympathetic supporters, had chosen to remain in Australia's detention facilities rather than voluntarily return to Sri Lanka in the hopes that their youngest daughter's case can be appealed in the High Court.
Australia has pursued a policy of processing all asylum seekers in offshore detention since 2001, with a break from 2008-2012. Former Labor Prime Minister Kevin Rudd hardened the policy in 2013 and sent all refugees to either Christmas Island, Nauru, or Manus Island.
The mother and father had arrived during this period as part of the 50,000 people who arrived on 800 boats under Mr. Rudd and Ms. Gillard, former Minister for Home Affairs Peter Dutton previously wrote in an op-ed: "Labor initially put them into detention and they were told all those years ago that, on the details they provided, they were not refugees under the UN definition so they would have to go home. They were told that they would never settle permanently in Australia, just like many others who arrived by boat. They never accepted that decision."
Dutton continued: "The civil war in Sri Lanka is now over and Tamils from around the world have returned to their country and have been accepted back by a democratically elected inclusive government. It is true though that Sri Lanka still doesn't have the industry, welfare system or job opportunities we enjoy in Australia.
"It's not that this family or those in the 68 million figure are unworthy or not sincere in their desire to live in Australia," he wrote. "The reality is our government, with the support of the majority of Australians, has taken tough decisions over a number of years now to keep our borders secure and people off boats.
"At the same time we have brought refugees in who, in many cases faced imminent death or persecution, and their cases are much more compelling than those who are not refugees but simply want a stronger financial future for their families."
Minister For Home Affairs Karen Andrews said that she would not comment on the family's situation as she "didn't want to disrupt negotiations" following the health emergency.
"We are going through the process now of investigating a range of resettlement options in relation to a number of different circumstances here in Australia," she said.
Potentially the government could allow the family to resettle in New Zealand or the United States, with Andrews noting on June 2 that she is considering the offers to resettle those medically evacuated to Australia.
"We're going to continue to look at resettlement options for these individuals," Andrews said. "We've made it very clear with New Zealand that there won't be a backdoor way for these people to be able to go to New Zealand and then return to Australia."
Andrews said several hundred refugees are currently living in Australia after being transported to the country under defunct medevac laws. "And we're doing all that we can to work through resettlement options for them. We clearly want to do that as soon as we possibly can," she said.