Purple Urchin Naturally for Body, Bath, and Beauty
April 16, 2014 1:38 pm Last Updated: April 16, 2014 1:38 pm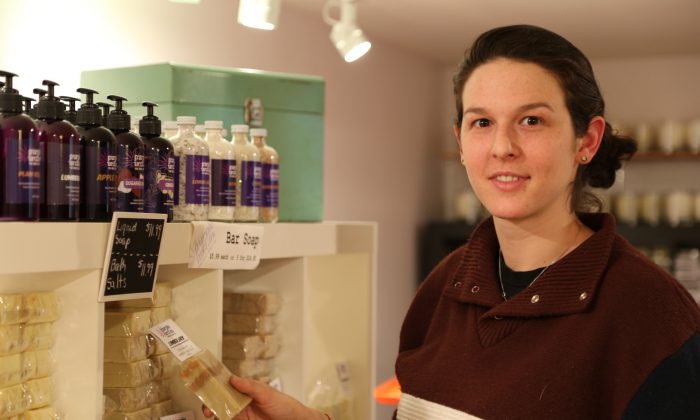 OTTAWA—Purple Urchin on Somerset St. West sells a complete line of bath and body products for adults, babies, and pets that are natural and handmade using high-quality ingredients.
The business was started in Sault Ste. Marie by Rebecca Pereira, who wanted to make eco-friendly products that were good for both the environment and the skin. All the products are made on-site and are the result of Pereira's hard work and imagination. 
"The majority of the products we have now Rebecca reached through trial and error and her research that told her this product is good for this skin ailment, and then trying it to see how it worked in a finished product, how it felt on the skin, and how it smelled," said head of sales Carly Pereira, Rebecca's sister.
Ingredients in the 33 varieties of handmade soap bars include olive oil, coconut oil, and other oils but no animal fats, making them vegan. They can be scented or unscented, and only essential oils or high-quality fragrance oils are used for the scented products.
The soaps range from Baby Urchin, an unscented mild soap, to Tea Tree & Eucalyptus, which is good for oily or acne-prone skin and has deodorant properties, to Coffee Bitters, a kitchen soap containing coffee and coffee grounds that removes odours like onion and garlic. There are also many unique scent combinations that are floral, fruity, or spicy.
"During the soap-making process, glycerine is produced as a byproduct, which some companies remove and sell separately or add to other products. We leave the glycerine in, so that means that all of our soaps across the board are very moisturizing," Carly explained.
Rebecca began her home-based business by selling soaps at craft fairs and farmers' markets. When the product line expanded to include items other than soap, the sisters opened a store in Ottawa's Chinatown in 2011. 
The product line continues to grow and is also sold at health food stores and at Illume Espresso Bar on Wellington St.
Soaps are not the only handmade products Purple Urchin offers. Also available are candles, solid shampoo bars, body butters, face creams, and face serum, as well as bath bombs, bath salts, and lip balms.
There's a "Lumberjack" line for men, which includes a beard oil to calm the skin under the beard and also softens the facial hair, something sure to be appreciated by the ladies in the men's lives.
For pets, there is soap and a coat conditioner suitable for both dogs and cats. Rebecca developed the line so she could donate 10 percent of the retail value of the three products comprising it to a local pet rescue organization for a year.
"Our bestseller is Extreme Cream, a facial moisturizer made with whipped mango and whipped shea butter. After that it's our Winter Hand Balm, which has shea butter, castor oil, and calendula-infused olive oil," said Carly. 
"All of those are good for penetrating deep into the skin. Calendula is a wonderful skin healer. It has about 14 different essential oils as well, so a lot of people find that it can help their various skin conditions."
She said she uses all the products and especially likes the hand balm. "It's the only thing I've found that works on the eczema on my hands and it really saves me during the winter."
Carly noted that the soaps are packaged in compostable and biodegradable cellophane made from wood cellulose. The packaging helps retain the scent and keep the soap from drying out.
Purple Urchin is located at 884 Somerset St. West. Visit purpleurchinsoap.com to see the full product line and for store hours.