Having a parent serving in the military can cause children to face tough obstacles.
By age 12, most military children move 10 times. And, on average, they change schools six to nine times between kindergarten and high school graduation, according to the Department of Defense.
That means a steady rotation of new schools with unfamiliar policies and faces.
But a program in 36 states aims to help the more than 1.1 million military children in the United States settle in better after a move by aiding their transitions into new schools.
So-called Purple Star Schools help them meet classmates, choose the right classes to keep on track for graduation, and more.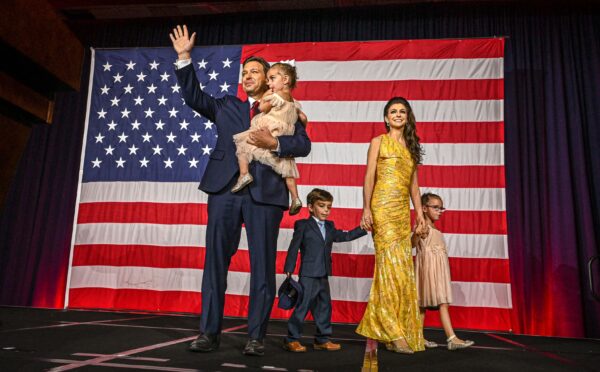 On Nov. 15, Florida Gov. Ron DeSantis, a Republican, spoke of his state's "massive footprint of active-duty personnel" and announced that 114 Florida schools in 10 counties have earned the Purple Star distinction.
One of the biggest ways the schools help military children is by quickly connecting them with other military students at the school, offering a kind of "student-led transition program."
Jesus Barrio, a 27-year Army veteran, knows the pain of watching his children say goodbye to friends and teachers as they prepare to move to a new community.
When his active-duty Air Force wife was transferred to Eglin Air Force base in Florida last year, they tried to ease the pain of moving by showing their children pictures of white-sand beaches and talking about the fun they could have in the state.
The children were still sad, Barrio said.
"That hurt us," he said, speaking to reporters alongside DeSantis. "But we had to move because we got an order to go."
Happily, the staff warmly welcomed Genevieve, his 11th grader. And the guidance counselor helped immensely, Barrio said.
"When we got to the school, she was sad," he said. "She didn't have any friends."
"The guidance counselor for the military introduced my daughter to other friends, and she started getting better."
Soon, she was headed to her "first football game and had a great time," according to Barrio.
"Now she's thriving," he said. "The information and support system is definitely here, and it is appreciated."

In order to qualify for Purple Star status, a school must have a trained staff member who helps military children settle into the new academic environment. That staff member must provide a student-led program that creates social connections for incoming military children.
The school must maintain a page on the school website to keep military families informed about program happenings. To build goodwill toward military families throughout the student body, the school must hold military recognition events.
The school must also set aside space for incoming students from military families. And they must train school staff about meeting military families' needs.
In Florida, schools apply to the state Department of Education to receive the Purple Star designation.
DeSantis, a U.S. Navy veteran and a father of three, said he understands the difficulty military families face as they move frequently, causing children to have to change schools.
"When you're talking about school children making that change, that can be very challenging," DeSantis said. "We wanted to make sure in Florida we're doing all that we can to head off those challenges" for military families.
Florida Education Commissioner Manny Díaz said that "it sends the message that our bases here in Florida are supported completely by the education system here.
"To make sure our students and our military families are taken care of and that our members of the military can serve without worrying about where their students are going to school," he said.
Along with the social and emotional difficulties military children endure when moving from one home to another, they often face gaps and overlaps in curriculum, differing graduation requirements, disruptions in course placement, stress from parent deployments, and more.

Navy veteran Pete LuPiba understood that and wanted to find a way to help. After being named to represent Ohio on the Military Interstate Children's Compact Commission, he knew he wanted to help military families.
In 2016, LuPiba asked community leaders and others to discuss and devise ways that a school could help military families make the transition from one place to another.
Out of those conversations, the idea for Purple Star Schools was born.
He envisioned "military-friendly" schools with staffers trained to make military students feel welcome. He imagined connecting those students with children from other military families, where they might forge instant connections. He thought about how to make a path for consistency in their schooling.
"We started with a small team," LuPiba wrote on the commission website. "We asked ourselves what a military family looks like, then added invested community members like educators and veterans.
"We sent out surveys, gathered data and feedback, and eventually established what a school should have to support military-connected students. The program can be adapted to fit any state, district or individual school."
The group found that schools located near military installations register a large number of new military-connected students, not just at the beginning of the school year, but year-round. They needed strategies for supporting those transitioning students.
Now, military parents can look for Purple Star-designated schools and know a program is in place to help their children, LuPiba wrote.