News analysis
The city of Tianjin on China's north-eastern coast operates one of the world's busiest ports, and the central business district is host to hundreds of multinational companies, including a good chunk of the Fortune 500.
But today the city is missing its own two top executives.
On Sept. 10, the Chinese Communist Party's internal disciplinary police announced that Huang Xingguo, Tianjin mayor and acting Party Secretary, is being investigated for "severe violations of discipline," a charge that usually refers to corruption. In the Chinese regime, Party Secretaries rank higher than mayors, and are the de facto political leaders.
Yin Hailin, Tianjin's deputy mayor, was taken away on the same charge on Aug. 22. No replacements for Yin or Huang have been announced.
Malfeasance appears to account for the sudden removal of Tianjin's top officials, but the real reason might be political. Huang and Yin are connected with former Party boss Jiang Zemin's faction, a rival group that Party leader Xi Jinping has been purging as he seeks to consolidate his control over the Chinese regime. Tianjin itself appears to have operated largely without oversight for years, with corruption cases or scandals cropping up regularly.
This year, Xi appears to be building up a case against Jiang himself. The purge of Huang and Yin are timed before a high-level Party conclave in October, and may serve to put Jiang's allies on notice.
Factional Connections
Yin Hailin, 56, is almost certainly a political client of Zhang Gaoli. Zhang, a member of the powerful Politburo Standing Committee and former Tianjin chief, is a known ally of Jiang Zemin.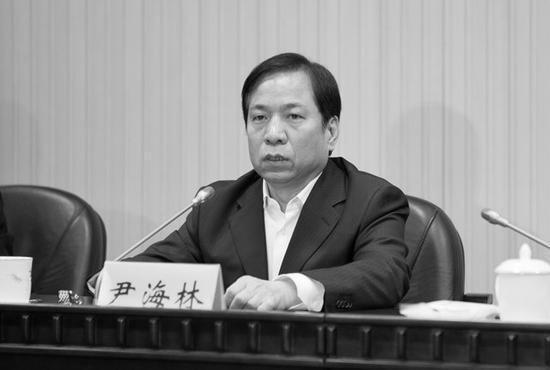 Yin was boss of Tianjin's city planning bureau when Zhang was Tianjin Party Secretary, and had helped Zhang establish the Binhai New Area, a prestigious economic zone. Major international companies like Airbus, Motorola, Rockefeller, and Tishman Speyer have offices in the Binhai New Area.
In May 2012, Yin was appointed to vice mayor of Tianjin. Zhang Gaoli, who moved up to the Politburo Standing Committee in October 2012 but retained power in Tianjin, would have overseen Yin's promotion.
Meanwhile, Huang Xingguo, 61, was Tianjin mayor when Zhang was the city's political leader in 2007, and the two would inevitably have established a close working relationship.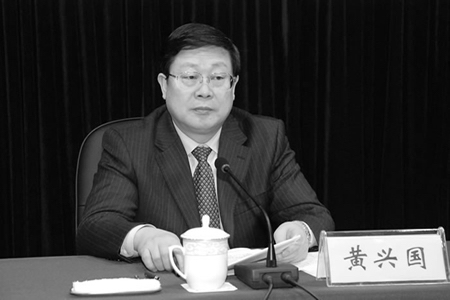 Some analysts have suggested that Huang is connected to Xi Jinping because the two were once colleagues in Zhejiang Province; Huang also went through the gesture of hailing Xi as "core" leader in late June.
But Huang's ties to Jiang Zemin seem to go deeper than that.
When Huang was Party Secretary of the eastern Chinese city of Ningbo in 1998, he placed large portraits of Jiang at the exits of expressways in the city in a show of loyalty, according to Duowei News, an overseas Chinese news outlet that is known to trade in news about Party factions. Duowei also reports that Huang Xingguo is part of Jiang's notorious "Shanghai gang."
Laying the Groundwork
The abrupt removals of Huang Xingguo and Yin Hailin come at a time that will give Xi Jinping leverage over his political rivals at an upcoming political conclave.
In July, Xi announced that the agenda for the 6th Plenary Session of the Party's 18th Central Committee will address the "major issue of strictly governing the Party." The "leading organs and leading cadres at all levels, and crucially those high-level cadres in the Central Committee, the Politburo, and the Politburo Standing Committee," have to "reinforce and normalize their political life within the Party."
The announcement comes unusually early since the agenda is typically set about one or two weeks before plenary sessions commence in October.  
Xin Ziling, a former defense official with links to moderate voices in the Party leadership, thinks that Xi will formally announce at the plenary session an investigation into former Party leader Jiang Zemin and Zeng Qinghong, the former Chinese vice premier and Jiang's political enabler.
This is because Xi Jinping's "biggest success" at the so-called Beidaihe conference—an informal but decisive leadership retreat traditionally held at the end of July to early August—was to get the top leadership to "reach a consensus on the resolving of the Jiang Zemin-Zeng Qinghong problem," Xin told independent radio station Sound of Hope in August.
Although a move against cadres with the prominence and seniority of Jiang and Zeng would be unprecedented, it has recently been made theoretically possible with a new set of Party regulations that hold elite cadres accountable for the wrongdoings of their underlings. Some analysts believe that these regulations are aimed directly at Jiang.
Given the intricacies of elite Party politics, however, Xi may now be in the process of guaranteeing that his rivals in the Politburo Standing Committee won't interfere in the removal of their political patron.
The recent purge of Tianjin's vice mayor and mayor could serve to check Zhang Gaoli, and ensure he votes to take down Jiang come the plenary session in October.  
Zhang Dejiang (no relation to Zhang Gaoli), the top Chinese official overseeing Hong Kong and a Jiang ally, is also being put on notice—anti-corruption officials are currently investigating the Liaison Office in Hong Kong, as well as the Hong Kong and Macau Affairs Office.
Meanwhile, anti-corruption investigators could have already opened investigations into Liu Qibao, the head of the Propaganda Department; that, at least, is what the Hong Kong political magazine Chengming, which is sometimes reliable, reports. Liu Qibao is the protege of Jiang ally Liu Yunshan, the Politburo Standing Committee member who oversees propaganda.
An official move against Liu Qibao before October would likely be aimed at reining in Liu Yunshan.
Jiang in Sights
Xi Jinping has already began moving directly against Jiang Zemin and his kin.

From March to May, anti-corruption police swept Shanghai, Jiang's home base, and targeted over two dozen government agencies. Earlier, probes were launched into state-owned enterprises linked with Jiang Mianheng and Jiang Miankang, the sons of Jiang Zemin.
The Jiang family also appear to have lost some of its freedom.
In March, Shanghai-based human rights lawyer Zheng Enchong said that Jiang Zemin and his sons have their movements restricted, citing "extremely reliable sources." Zheng has long tangled with elements of Jiang's "Shanghai gang," and was placed under house arrest for his efforts.
There are some indications that the elder Jiang is indeed in trouble.
Jiang Zemin hasn't made a public appearance since the winter of 2015. He also failed to send flower wreaths to the wake of a late comrade at the end of July. Before Jiang's 90th birthday in August, police warned his supporters against throwing celebrations.
The gestures, in the coded world of the Chinese regime, bode ill for Jiang Zemin.