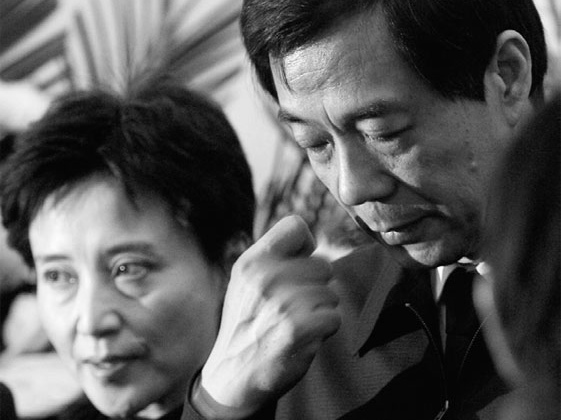 Articles in China's state-run media indicate that former Chongqing Party chief Bo Xilai may face tougher punishment than merely being removed from his Party posts, according to commentators. In a sign of the gravity with which Beijing is taking the Bo Xilai case, efforts have been made to explain it to the Party membership and the public.
China's state mouthpiece media Xinhua announced on April 10 at 11pm that former Party heavy weight Bo Xilai has been removed from his positions in the Chinese Communist Party Central Committee (CCPCC) and the Politburo. A minute later, via the same media came the announcement that Bo's wife Gu Kailai has been handed over to law enforcement agencies in connection to the suspicious death of Neil Heywood, a 41-year-old British businessman.
The same news also broke out all over Weibo, the major micro-blog service in mainland China, but it was quickly censored.
According to Hong Kong's Ming Pao newspaper, on April 11 the CCP issued documents to county level or higher Party officials, passing on information related to Bo and his wife for so-called "study sessions" to explain why Bo was being purged from the Party.
---
Click this tag or www.ept.ms/ccp-crisis to read about the most recent developments in the ongoing power struggle within the Chinese communist regime. Intra-CCP politics are a challenge to make sense of, even for veteran China watchers. Here we attempt to provide readers with the necessary context to understand the situation. Get the RSS feed. Get the Timeline of Events. Who are the Major Players?

---
However, Ming Pao reported that the documents were immediately recalled, for reasons that are unclear. Ming Pao also reported that the editorial boards of major Beijing newspapers were called into meetings to discuss coverage of the Bo issue.
Commentators say that this type of treatment of a high-level Party official has not been seen since the Cultural Revolution more than 30 years ago.
Skeptical Reactions
After the Xinhua report, many skeptical responses appeared online about the Bo scandal and what is really driving the current turbulence in the upper echelons of the Party.
Liu Gang, a former leader of the 1989 Tiananmen student movement, wrote on the Chinese Jasmine Movement Blog website that according to the CCP's usual methods, anything related to a Politburo member is covered up, and any public criticism happens only when a high ranking figure has lost all political influence.
Liu questioned how the investigation into the suspected murder of Heywood was being carried out. He pointed out that, until the case is finalized, no one should be allowed to publicly reveal case information. Liu asked, why did the CCP rush to publicize the alleged crime of Bo's wife?
Epoch Times columnist Wang Hua said: "The report by Xinhua is misleading public opinion. When Xi Jinping visited the U.S. on Feb. 15, U.S. officials already told media that Wang Lijun exposed Bo Xilai's biggest crime, which was the planned conspiracy with Zhou Yongkang to stop Xi Jinping from taking office."
Another Epoch Times commentator, Zhang Tianliang, believes: "If anyone reveals information on Bo Xilai's corruption, prostitution or even help covering up his wife's alleged crime, all these are aimed at diluting the real significance of the Bo Xilai case."
Next…Bigger Political Storm