Chinese Journalists Call for Apology After Official's Outburst
March 16, 2010 12:48 am Last Updated: October 1, 2015 8:35 pm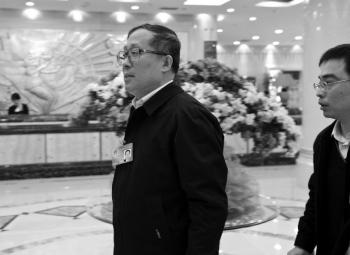 In an unusually assertive move, several hundred Chinese media workers are demanding that Hubei governor Li Hongzong apologize and even resign, for publicly threatening, yelling at, and snatching away the recording pen of a female reporter at a recent press conference.
The incident occurred on the morning of March 7 during the "Two Sessions" (the People's Political Consultative Conference and the National People's Congress annual meetings). A female reporter from the "People's Daily" questioned Mr. Li about the hot-topic rape case in Hubei involving waitress Deng Yujiao. The incident implicated two Party officials and was among the most discussed items on the Chinese Internet last year.
Li became enraged by the question and asked which media the reporter was from. When he found out that she was from "People's Daily", he yelled, "Are you really from People's Daily – asking this question? You are the Party's mouthpiece? How do you guide public opinion? What's your name? I'm going to talk to your boss!"
With a crowd of startled reporters watching, Li proceeded to snatch the recorder from the frightened reporter's hand.
The incident drew attention from members of the National People's Congress and People's Political Committee and has continued to escalate. Media workers and scholars in China have criticized the regime, with some demanding that Mr. Li apologize, others that he resign.
On March 12 the Hong-Kong based NGO Chinese Human Rights Defenders published a joint petition regarding Li's behavior submitted to the National People's Congress by media workers and scholars. Within 24 hours, hundreds of signatures had been added.
Professor Xia Yeliang, a well-known scholar, wrote on his Twitter page: "For reporters who have the opportunity to attend the question and answer session of premier Wen Jiabao, be sure to ask questions related to the Li Hongzhong incident. [I am] hoping to see the historical picture of session staff snatching the reporter' recorder pen away."
Mr. Li defended himself in the face of the media storm, saying, "We were worried that she was not a reporter, so we took away her recorder to take a look. I don't think I need to apologize for that."
The protest by so many media workers comes on the heels of another unprecedented incident of media solidarity when on March 1, just prior to the opening of the annual meeting of the Two Sessions, 13 Chinese newspapers published the same editorial appealing to the government to change the country's household registration system, which is widely seen as unfair.
According to Hong Kong's Ming Pao newspaper, by March 5 the president and editor-in-chief of the "Economic Observer," the newspaper that initiated the editorial, were warned, the assistant editor-in-chief who drafted the editorial was fired, and all 13 newspapers received a formal warning from the Central Propaganda Department.