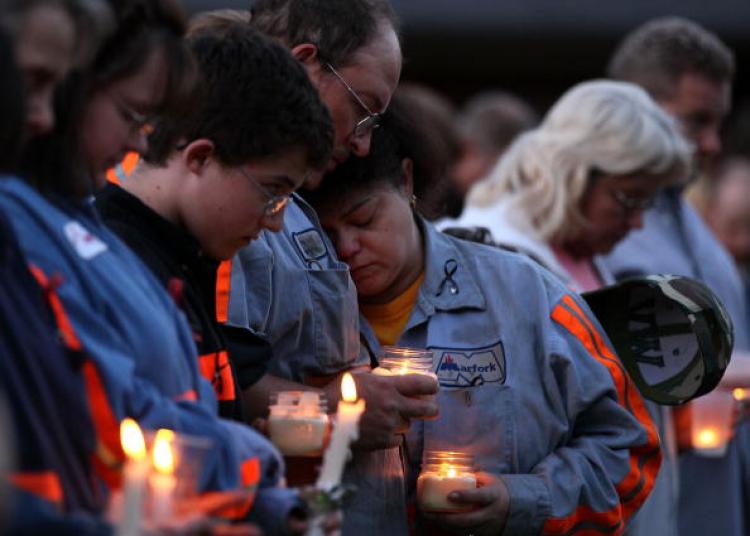 Following an explosion at West Virginia's Massey mine on April 5, which left 29 miners dead, the U.S. Department of Labor's Mine Safety and Health Administration (MSHA) announced that it would be carrying out an investigation into the causes of the explosion.
Massey Energy Company, which according to MSHA has had a long history of safety violations—with a record that exceeds the national average by 19 times—has for years been facing heat for its safety standards.
Following the deaths of 29 miners, the United Mine Workers of America (UMWA) organized a rally to commemorate the dead. The rally took place outside of Massey Energy's annual shareholder's meeting.
The MSHA investigation will investigate the causes of the accident by performing a physical inspection of the site and holding public hearings. One of the hearings will involve asking questions to witnesses who know of the mine, the mine operations, and the explosion.
The physical investigation of the site of the explosion has been delayed due to unsafe conditions. "Due to concerns about mine gasses produced by heating and/or fires, the investigation team has not been able to enter the mine to begin the physical examination. MSHA, the state of West Virginia, and the mine owner continue to work to stabilize underground conditions," says a MSHA press release.
The content of the hearings, which will be open to the media and the public, will also be made publicly available after the hearings take place.
The purpose of the discussions will be to look into the causes of the mine explosion and also develop corrective actions, procedures, and strategies to prevent the occurrence of similar accidents.
Accounts from family members of the miners killed in the explosion will also be taken during the public hearings.
"MSHA is committed to ensuring that the process moves forward in a timely and transparent manner, and will also make sure that its investigative process does not hinder any potential ongoing criminal investigations into the tragedy that happened at the Upper Big Branch Mine," said Joseph A. Main, assistant secretary of labor for mine safety and health, in a press release.