Public Campaign Mounts to Release Gao Zhisheng
February 5, 2010 2:04 am Last Updated: October 1, 2015 8:50 pm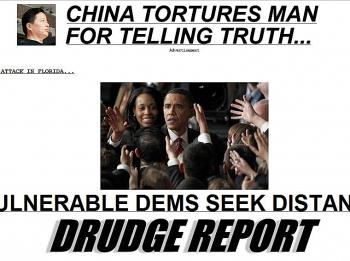 On the one year anniversary of the abduction of renowned Chinese human rights lawyer Gao Zhisheng, a human rights NGO in the U.S. has started a very public campaign for his release.
With emails, petitions, letter writing campaigns, and a prominent ad on Drudge Report (one of them in the iconic form of Drudge-style headlines), Texas-based ChinaAid is determined to get answers.
Several recent comments on Gao's status by Chinese officials percolating around Chinese Web sites, brought the issue closer to public view recently. On Jan. 21 for example, Chinese Foreign Ministry spokesperson Ma Zhaoxu responded to a question about Gao's situation at a routine press conference, saying, "The relevant judicial authorities have decided this case, and we should say this person, according to Chinese law, is where he should be."
That remark was regarded as "extremely sincere" by Gao's lawywer, Li Fangping.
Before then, a police officer was reported to have told Gao's older brother, who went to authorities in Beijing looking for answers, that Gao had "gone missing." One interpretation given to this euphemistic remark was that he had been executed.
ChinaAid says that the foreign minister's comments indicate that he is still alive, but suffering incredible torture. In early 2008, a personal testimony of Gao's surfaced describing the gruesome torture he had suffered for 50 days in 2007, including having his genitals pierced with toothpicks, being shocked with electric batons, and having his eyes burnt with cigarettes.
The Chinese Communist Party began targeting Gao after he investigated and wrote several open letters to Chinese leaders about the persecution of Chinese citizens, and in particular Falun Gong practitioners. He called the persecution of Falun Gong "barbaric," and "surpass[ing] all evils ever known to mankind." After he wrote a letter to the U.S. Congress in late 2007, he was kidnapped.
ChinaAid's calls for attention are being heeded. At the time of writing, the campaign had generated 126,200 signatures on a petition for Gao's release, 469,500 e-mail inquiries to Chinese businesses and government offices, and has inspired 11,202 individuals to contact their U.S. representatives.
The Washington Post published a letter by Gao's wife, Geng He, calling for the U.S. to pay attention to the matter, and Jerome Cohen, a well-known expert on Chinese law, has joined in a formal petition to the U.N.
In March last year, Mr. Cohen wrote in the South China Morning Post, "It is time for the court of world opinion to insist: Show us the prisoner and justify his detention."
Gao was nominated for the Nobel Peace Prize in 2008, and again this year.