White House Press Secretary Jen Psaki said during Monday's news conference that she cannot comment on the ongoing homicide trial involving Kyle Rittenhouse but said President Joe Biden opposes "vigilantes patrolling our communities" with rifles.
"We shouldn't have opportunists corrupting peaceful protests by rioting and burning down the communities they claim to represent anywhere in the country," she told reporters, ostensibly referring to months of looting, violence, and arson attacks that erupted alongside Black Lives Matter protests last year.
She continued that the "closing arguments in this particular case—which I'm not speaking to; I'm just making broad comments about his own view—there's an ongoing trial. We're awaiting a verdict. Beyond that, I'm not going to speak to any individuals or this case."
Psaki also did not respond to comments from Rittenhouse's mother, Wendy Rittenhouse, who criticized Biden in a news interview last week and referenced comments he made last year while on the campaign trail when he described Rittenhouse as a white supremacist.
"It doesn't mean that he doesn't understand—of course he does—when emotions are high, when passions are high. We're here to provide support," she said. "And obviously, we're going to wait for any verdict to come out. And beyond that, certainly we, you know, are hopeful that any protests will be peaceful."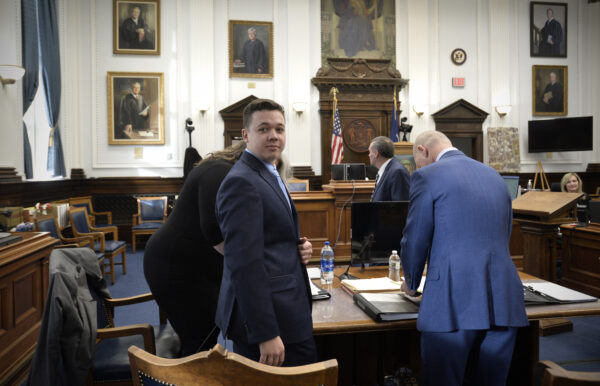 Her remarks come as prosecutors said in closing arguments Monday that Rittenhouse was a "wannabe soldier" who provoked the bloodshed by bringing a semi-automatic rifle to a protest and menacing others, then walking off like a "hero in a Western" after killing two men and wounding a third.
But Rittenhouse's lawyer countered that Rittenhouse acted in self-defense after being ambushed by a "crazy person" he feared would wrest away his gun and use it to kill him.
Defense attorney Mark Richards called Rosenbaum a "crazy person" who was "hell-bent on causing trouble that night" and went after Rittenhouse unprovoked.
"Mr. Rosenbaum was shot because he was chasing my client and going to kill him, take his gun and carry out the threats he made," Richards said, adding that Rittenhouse never pointed his gun before being chased: "It didn't happen."
Last week, prosecutors asked the judge to let the jury consider several lesser charges if they acquit Rittenhouse on the original counts. Judge Bruce Schroeder agreed as he delivered some 36 pages of legal instructions to the jury.
The Associated Press contributed to this report.