White House press secretary Jen Psaki delivered the Biden administration's strongest signal yet in support of Cubans demonstrating against the ruling regime, describing communism as a "failed ideology."
In response to a reporter's question on Thursday, Psaki stated: "Communism is a failed ideology and we certainly believe that."
"It has failed the people of Cuba, they deserve freedom," she said during a briefing. "They deserve a government that supports them, whether that is making sure they have health and medical supplies, access to vaccines, or whether they have economic opportunity and prosperity."
"This has been a government—an authoritarian, communist regime—that has repressed its people and has failed the people of Cuba, hence we're seeing them in the streets," Psaki continued.
Starting over the past weekend, thousands of Cubans have openly demonstrated against the Cuban regime and called for its leader Miguel Diaz-Canel—also the head of the Cuban Communist Party—to step down. Some demonstrators, as well as Cubans in the United States, have called on the Biden administration to intervene amid mass arrests of demonstrators by the regime.
Psaki has pushed back against the claim that the U.S. embargo led to protests against the regime. For decades, Cubans have blamed the Cuban Communist Party and the ruling Castro regime for the country's economic troubles and human rights violations.
The regime also has long placed restrictions on travelers bringing food, hygiene products, medicine, and other items into the country. On Wednesday, Cuba announced it would temporarily rescind those restrictions, which was a key demand of the protesters.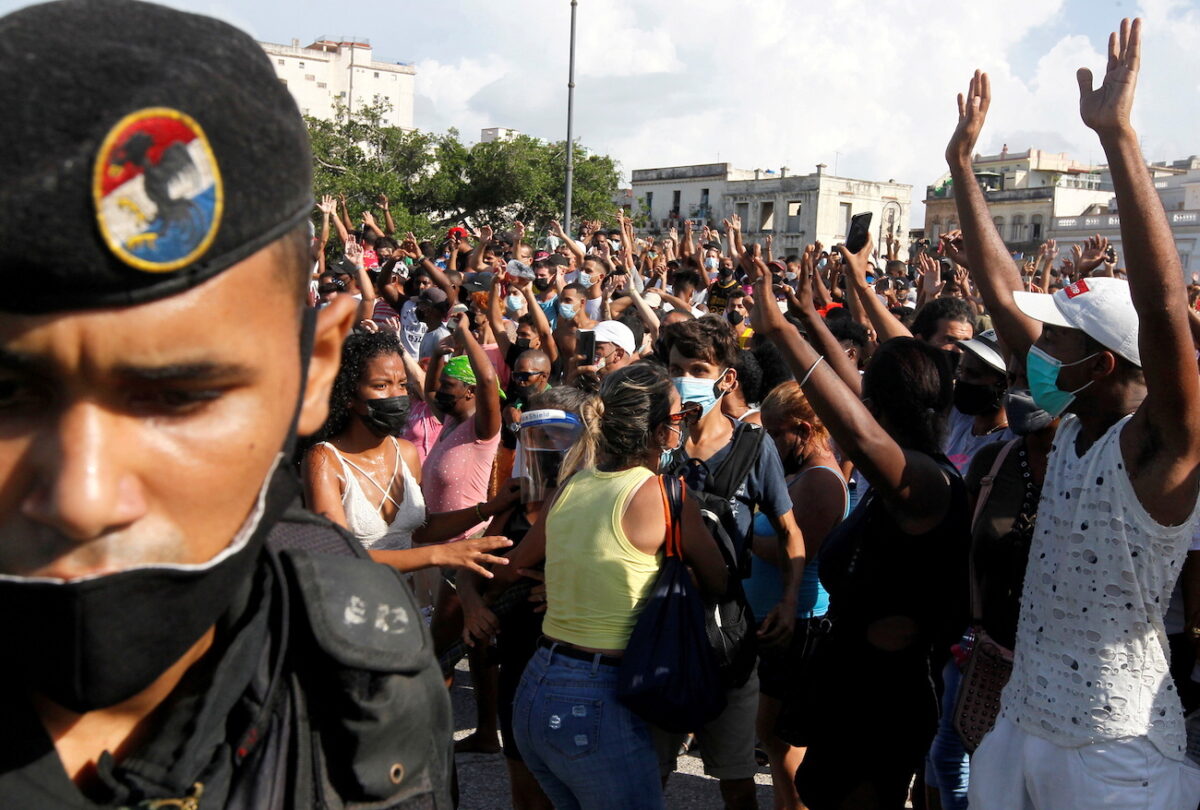 "I would note that the [communist] ideology of the government, which has failed, has led to a lack of access to economic opportunities, to medical supplies, to COVID vaccines," she said Thursday.
The press secretary also responded to criticism that President Joe Biden hasn't provided enough support on the demonstrations.
Biden "has made clear that he stands with the Cuban people and their call for freedom from both the pandemic and from decades of repression and economic suffering to which they've been subjected by Cuba's authoritarian regime," Psaki added.
Amid the demonstrations, activists told news outlets this week that more than 100 people have been arrested, detained, or are simply missing in a regime-led clampdown.
The State Department condemned the arrests of political activists.
"The Cuban Government has attempted to silence their [Cubans] voices and communications through internet shutdowns, violence, and arbitrary detentions of dozens of protesters, journalists, activists, and other repressive tactics,"  State Department spokesman Ned Price said on Tuesday