During Wednesday's press briefing, the White House press secretary Jen Psaki said that President Joe Biden had been aware of France's anger over Australia's submarine deal with the United States and the UK, indicating that a previous statement made by Biden's climate envoy John Kerry was not correct.
In an interview with French BFMTV that aired Monday, Kerry said, "He [Biden] literally had not been aware of what had transpired."
"Of course, he was aware of the French being upset," Psaki responded to a question about Kerry's comment.
"I know John Kerry quite well. He, of course, was aware—the President—of the French being displeased about the deal with the Australians. John Kerry also speaks regularly to the French as a part of his role as the Climate Envoy. He's someone who also served as Secretary of State."
A spokesperson for Kerry said that in speaking about Biden being unaware, he "was clearly referring to French sentiment," and not to the details or decision-making regarding AUKUS, a trilateral security partnership between Australia, UK, and the United States, The Hill reported on Tuesday.
Video shows that the interviewer asked Kerry, "You told Joe Biden that it was not the right …?"
"He asked me," Kerry interrupted. "He said, 'what's the situation' and I explained exactly. He was—he had not been aware of that. He literally had not been aware of what had transpired."
"And I don't want to go into the details of it. But suffice it to say that the President—my President is very committed to strengthening the relationship and making sure that this is a small event of the past and moving on to the much more important future," Kerry added.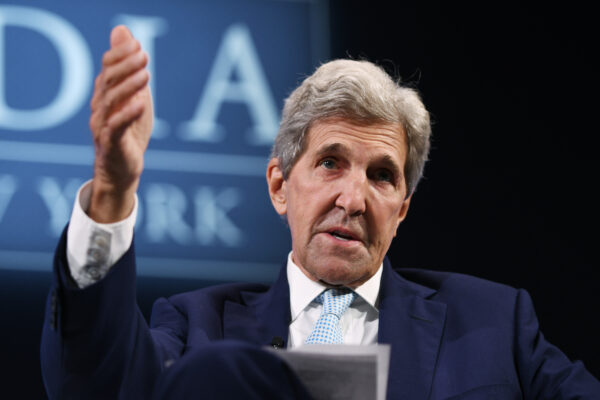 The interview video clip then went viral and raised concerns from Republicans about what else Biden had been unaware of.
"Climate Envoy John Kerry says [the President] isn't consulted on reactions of key U.S. Allies," Sen. Bill Hagerty (R-Tenn.) wrote on Twitter. "This could explain disastrous Afghanistan withdrawal & Biden Admin selling out Eastern European allies in NATO & Ukraine while waiving sanctions on Nord Stream 2 pipeline."
On Sept. 15, Australia announced that the United States and the UK would provide nuclear submarines to Canberra. Hours before the announcement, Australia notified the French government that it had canceled the allegedly $65 billion contracts of a fleet of submarines.
In response, France issued a series of angry statements and temporarily recalled its ambassadors to the United States and Australia.
Kerry made the remarks when he was with State Secretary Antony Blinken in a visit to France this week. Blinken met with French President Emmanuel Macron on Tuesday to assure him the relationship between the two allies remains strong.
During Wednesday's White House briefing, Psaki was also asked what exactly Biden was not aware of. "Was he not aware of something before the deal was announced? Was he not aware that the French weren't read in? Was he not aware of the French deal on conventional submarines?"
"Right now, what our focus is on is moving forward," Psaki responded. "As you know and as President Macron spoke, too, they're going to be meeting next month. We're working to finalize the details of that."