Pruett on the Pole for the TUSC Tequila Patrón Sports Car Showcase at Long Beach
April 11, 2014 10:09 pm Last Updated: April 11, 2014 10:10 pm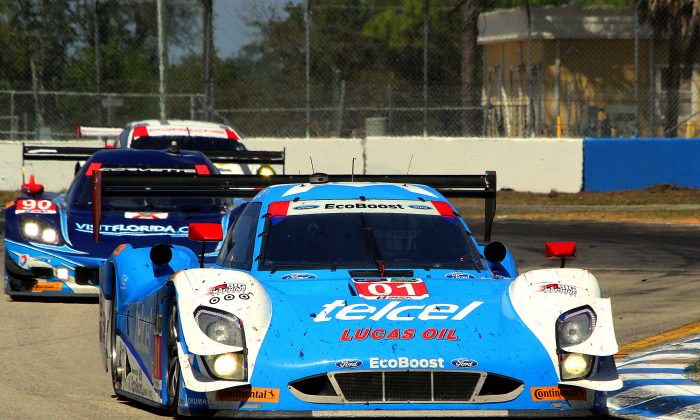 Scott Pruett repeated his performance from morning practice in qualifying for the Tudor United SportsCar Championship Tequila Patrón Sports Car Showcase at Long Beach, turning in the quickest lap of the session to win the pole.
Pruett in the #01 Ganassi Racing Riley-Ford EcoBoost want out early in the session, did two laps to heat his tires, and uncorked two fast laps, the last of which a 1:15.414 at 94.056 mph, which won him the pole.
"Thats one of the things about Long Beach, you get faster and faster the longer you go around the track. You get a little braver, a little braver, until you start scraping the walls," Pruet told IMSA.com after qualifying. "We unloaded with a good car in launch position and all we've had to do was fine tune it. We had the qualifying setup in and we'll dial it back a bit for the race tomorrow.
"It took a time for us to get going this season," Pruett continued. "Daytona was a bit disastrous, then we went to Sebring and got the win, and now the pole. It makes all those long hours and seven days a week and lots of work starting to show themselves and pay off. It's certainly better to start at the front, in Long Beach you don't know what to expect."
Oz Negri in the #60 Michael Shank Racing Riley-Ford EcoBoost was second quickest, this time 0.130 off the pace with a lap of 1:15.544.
Third in class a quite a ways (relatively) back came Christian Fittipaldi in the #5 Action Express Coyote-Corvette with a lap of 1:15.839.
Olivier Pla in the #42 Oak Racing Morgan-Nissan turned in the best P2 lap at 1:15.987, fourth overall, 0.573 behind Pruett and 0.148 behind Fittipaldi.
Corvette and BMW Lead GTLM
Just as in practice it was Corvette Racing which was quickest in the GT Le Mans class with the two BMW Team RLL cars right behind.
Jan Magnussen in the #3 C7.R uncorked a blazing lap of 1:17.939 at 90.902 mph—the only driver to break 1:17—late the session after Bill Auberlen in the #55 BMW Z4 and Dirk Müller in the #56 Z4 set best laps after three and four laps respectively.
Auberlen circled the track in 1:18.091 and Müller in 1:18.246, fastest in the session until Magnussen's late lap put them 0.152 and 0.307 behind.
"First of all, I want to say how happy I am for the team with the pole position," Magnussen told IMSA.com. "It's a new car, the C7.R. We knew all along it was a great race car but we couldn't prove it. Reliability hadn't been 100% this year, but hopefully we can have a great race from the front row.
"Qualifying went really well. I found a good gap, but I had to back off once to find myself a better gap, and after that it was a matter of trying to work a little bit to find a corner. At one point we were p3; I didn't know if there was any more to come. I pushed hard and it stuck and didn't hit any of the walls and that was the pole position."
The second Corvette, the #4 of Tom Milner, will start right behind the BMWs. Fifth and sixth will be the Porsche North America RSRs, running better than in the morning session but still not showing the speed they had at Daytona and Sebring.
Gaps were unusual large for GTLM, with only the top seven cars lapping within a second of the leader.
The TUSC Tequila Patrón Sports Car Showcase at Long Beach starts at 6:10 p.m. Saturday, April 12. Tickets are available through the Long Beach Grand Prix website.
The race will be televised on Fox Sports 1 starting at 6 p.m. ET Saturday. Live Timing as always is available at IMSA.com.