As Australia lifts restrictions put in place amid the Chinese Communist Party virus pandemic, hundreds of people have taken to the streets to exercise their right to protest.
Crowds gathered in most capital cities at midday on Saturday to rally and march against controversial issues including mandatory vaccinations, the erosion of human rights, media corruption, 5G technology, and other stated concerns.
The Sydney-based organiser Myk Simms told The Epoch Times that not everyone who attended was concerned about each of the issues that were raised.
"Not everyone there gives two hoots about 5G," said Simms. "Some don't care about vaccines. But everyone had a problem with their rights and freedoms being removed."
Simms also pointed out that he organised about 20 volunteer marshalls to ensure strict social distancing measures were in place throughout the march in Sydney.
"We had people on megaphones. We had some of our people, during the middle of our march, making people stop when they were getting too close," Simms said.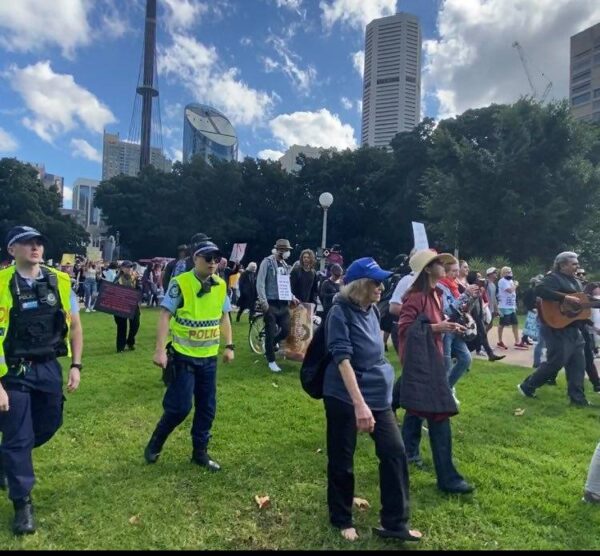 While there were reports that marchers booed the police who had warned the crowd that they were breaching social-distancing rules, Simms said that most of the Sydney crowd were happy to comply with them.
Simms noted that only "one percent" of the crowd might have felt those requirements should be protested as well.
"I myself did a speech that said the police are supporting this and we'll support the police, and let's keep the space, and the crowd applauded that," Simms said.
It was reported that up to 500 protesters participated in Sydney.
When asked about the reason for holding the marches Simms said, "Just people want their freedoms upheld, their human rights."
The Sydney group convened at Hyde Park in the CBD before holding a singalong and then walking to New South Wales Parliament House without incident or police intervention.
They chanted "freedom of choice" and "my body, my choice" on the march, referring to vaccines.
Australian celebrity Pete Evans wrote on Instagram to wish the protest well, saying: "Wish I could join you all today. These are happening around Australia."
When asked about the protest, Victoria's Chief Health Officer Brett Sutton said "there's no message that can get through to people who have no belief in science."
"There's probably no reaching them," he told reporters.