With the prospect of widespread vaccination mandates and passports coming into effect in various jurisdictions across Canada, people took to the streets in Toronto and Montreal this past weekend to protest against such measures.
In Toronto on Aug. 28, hundreds of protesters marched along major streets including Bloor Street West and Yonge Street, shouting the slogan "No vaccine passports." Signs reading, "Forced vaccination is wrong!" and "Trust me to make the best choice for yourself!" could be seen among the crowd.
#NoVaccineMandates #cdnpoli pic.twitter.com/aBHRYP78iU

— Freecanuck (@Freecanuck1) August 28, 2021
The same day, thousands of people gathered at Maisonneuve Park in Montreal, marching along Sherbrooke Street till they arrived at the front of the Quebec Order of Nurses building on Molson Street, to protest against upcoming vaccine mandates imposed by the Quebec government.
Health Minister Christian Dubé announced on Aug. 10 that starting Sept. 1, Quebecers will be asked to show proof via a vaccination passport that they have received both doses of the COVID-19 vaccine when accessing non-essential services or businesses.
Premier François Legault followed with an announcement on Aug. 17 that the province will make vaccination mandatory for health-care workers. Dr. Horacio Arruda, the province's director of public health, said at the press conference that the mandate will apply to any health-care worker who is in "direct contact with vulnerable people for 15 minutes or more."
Health-care workers are expected to get their first dose by Sept. 1, and the second one by Oct. 1, Legault said. Failure to comply will mean they won't be able to work. "Will they be paid? Will they be paid partially? These are things that we have to look at and discuss," he said.
The Montreal protest, organized by professionals from the health care, education, and police sectors, said differing views of the province's public health measures have been suppressed.
"Since the beginning of March 2020, these professionals have been silenced, they have been scolded for questioning the health measures," protest organizers Réinfo Covid Québec and Canadian Frontline Nurses wrote in a Facebook post.
"They have been shamed, threatened and some went as far as receiving disciplinary warnings."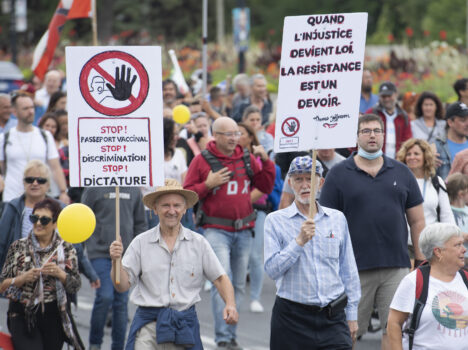 Residents in British Columbia will face one of the most stringent proof-of-vaccination systems in Canada after the government's vaccine card comes into effect on Sept. 13.
On Aug. 23, Provincial Health Officer Bonnie Henry said no exemptions would be granted to the unvaccinated, including those with rare medical conditions who are unsuitable for vaccination, to access certain "non-essential" locations or services when the vaccine card is implemented. She argued the move will help the province to get "through a risky period" of increased COVID-19 cases.
Three days after Henry's announcement, a petition to abolish the proof-of-vaccination system was launched and had garnered over 45,000 signatures as of Aug. 31.
"Whether vaccinated or not, medical segregation should cause concern for every individual in British Columbia. It's a clear violation of human rights and once we lose these rights it will be very difficult to get them back," wrote Lawrence Hanson, who initiated the petition.
"Vaccinated citizens are still giving and getting covid and ending up in the hospital. Iceland and Israel are examples of this where a third shot is being administered in order to consider yourself vaccinated, with no data to back up whether this will be effective or not. Will you need to keep getting shots to be able to access non essential activities and when will this end?"
Meanwhile, Ontario is planning to introduce a vaccine certificate system next week—a reversal from Premier Doug Ford's previous claims that such a system would "split society."
With files from The Canadian Press and reporting by Andrew Chen.