As tens of thousands of Australians from all walks of life gather at the nation's capital from across the country to protest COVID-19 vaccine mandates on Feb. 12, Prime Minister Scott Morrison has pointed the finger at the state governments that "unilaterally" imposed the mandates via public health orders.
Marching through Canberra before gathering on the lawn in front of Parliament House, the protesters, made up of people who are both vaccinated and unvaccinated but are against the mandates, held up signs and placards with the messages they wanted those in power to heed.
One federal MP said it was the biggest protest he'd seen in Canberra in his 11 years as a parliamentarian. The massive scale of the protest was echoed by a Seven News reporter who shared a photo from that outlet's helicopter.
The actual number of protesters is disputed, with claims on social media putting the figures from 300 thousand to 1 million. Meanwhile, police have said the number of attendees at the protest in front of Parliament House were up to 10,000.
Among the protesters were people wearing army fatigues, police shirts and caps, and casual clothes with handwritten messages indicating they were frontline workers and teachers who had lost their jobs due to vaccine mandates.
These messages could be seen in videos and photos circulating on social media, some of which read: "Free Australia. End mandates," "Hands off our children," "Last year's hero, this year's unemployed," "Trust your immune system," "Coercion is not consent," "We want choice, We want truth, We want freedom," "Save our sovereignty," and "Don't listen to the lamestream media."
In several videos shared on the Australian Free Independent Press Network Facebook page, a sea of flags can be seen in a crowd of several thousand, clapping and cheering on the lawn in front of parliament.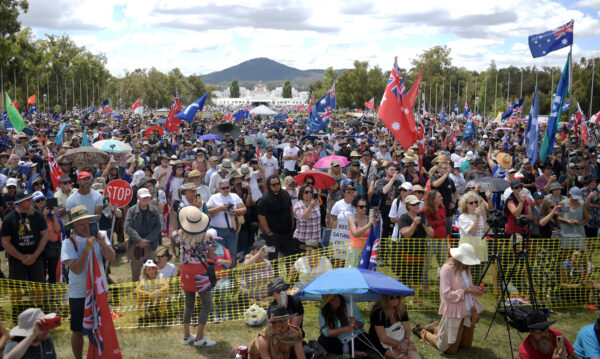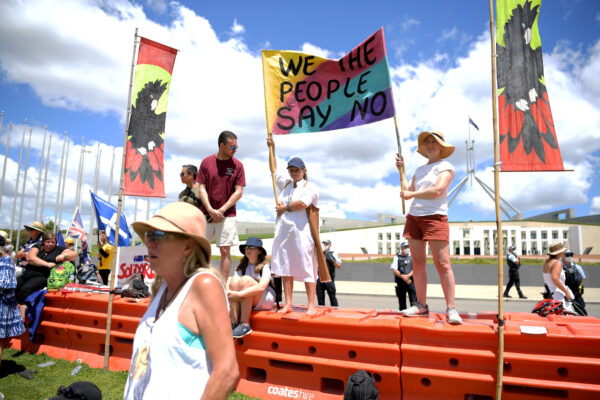 One placard read "Fake news" with the logos for Ten, Seven, Nine, and the Australian Broadcasting Corporation—outlets that often refer to protesters with the blanket "anti-vax" label in their reports, which attendees have often described as being inaccurate and harmful.
Other protesters wore shirts that identified themselves as teachers, police officers, and firefighters who had lost their jobs due to the vaccine mandates.
One man wore a white singlet on which he wrote in black marker: "Teacher 40+ years."
A woman wore casual clothes and a blue police cap, while another woman wore a black shirt with "QPS (Queensland Police Service) 13.5 years" written on the back.
Another man wore his police shirt, and written on the back was: "13yrs police. SACKED. 25yrs CFA (Country Fire Authority) BANNED. #HerotoZero."
"Hero to Zero" is in reference to the way some frontline workers feel they were initially praised by media and politicians at the start of the pandemic, when no vaccines existed, but are now targeted for dismissal because they don't want to get a COVID-19 vaccine.
Another woman wore a white shirt with "nurse 30+yrs" handwritten on the front.
One woman wore a message on her shirt that indicated she was not against vaccinations but had concerns about the current COVID-19 vaccines. Her shirt read: "Don't call me an anti-vaxxer. The name's Mrs. Doubt Pfizer," a reference to the fictional character, Mrs. Doubtfire, played by the late actor Robin Williams.
Prime Minister's Message to Protesters
Speaking to the media on Feb. 12, the prime minister had a message about vaccine mandates for the protesters.
"I want to be very clear. When it comes to the issue of vaccine mandates, the Commonwealth government have only ever supported mandates that relate for aged care workers, disability workers, and those working in high-risk situations in [the] health system.
"All other mandates that relate to vaccines have been imposed unilaterally by state governments. They have not been put in place by the Commonwealth government.
"In fact, the Commonwealth government cannot impose such a mandate … so I understand their concerns about these issues," he said.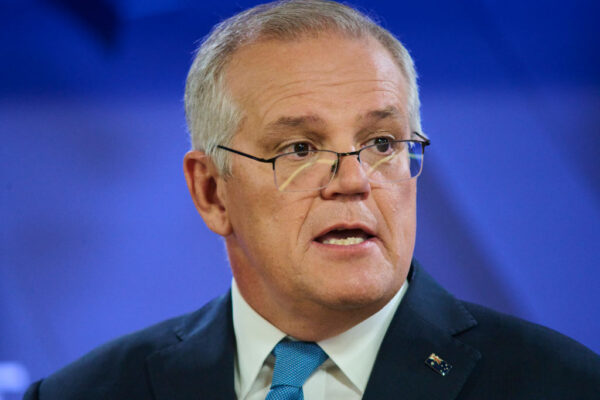 Morrison has emphasized this point throughout the pandemic, explaining at various press conferences, usually after National Cabinet meetings, that any vaccine mandates had to be enacted by state governments based on the medical advice of their chief health officers and via public health orders.
In Australia, state and territory health officials can impose human biosecurity control orders on people in order to take measures to manage the pandemic's risk to human health after lawmakers amended the Biosecurity Act 2015 to give jurisdictional governments special but temporary powers by declaring a human biosecurity emergency.
During the emergency period, which has been extended every three months since March 2020, the Act also gives officers powers to investigate and enforce penalties for noncompliance with COVID-19 health orders, such as fines and providing for warrants to enter premises. In some limited cases, officers can enter premises without a warrant or consent.
The public control orders, while aimed at managing the health impacts of the pandemic, have resulted in catastrophic harm to people's livelihoods, first with the imposition of lockdowns—at one point in July 2021, over half of Australia's population of 25 million was subject to stay-at-home orders—and now with people losing their jobs because they are unvaccinated.
These measures led former Prime Minister Tony Abbott to refer to some of the state governments' measures as a "health dictatorship," and this sentiment was shared by thousands at Saturday's protest.
This article was updated to include the disputed figures on the number of protest attendees.