LOS GATOS, Calif.—About 20 protesters gathered at Netflix's headquarters in Los Gatos, California, on Sept. 11 to oppose an affirmative action bill that a Netflix head supported.
Patricia Quillin, wife of Netflix co-founder Reed Hastings, donated $1 million to promote Proposition 16. The protesters stood outside on a smoggy day with signs reading "No on Prop 16," and "#CancelNetflix."
In 1996, Proposition 209 was created to prohibit discrimination against people based on race, gender, or ethnicity for employment or education. 
Prop 16, also known as the Repeal Proposition 209 Affirmative Action Amendment, would revoke Prop 209. 
The intention is to allow race and gender to be considered in employment or education, so that some positions can be guaranteed to minorities, women, and certain others. Proponents say it levels the playing field for disadvantaged groups. It will appear on the November ballot.
"Proposition 16 basically legalizes discrimination," Tony Guan, founder of StopProp16.org, told The Epoch Times. 
"We are here working hard, and our kids are studying hard. … If you want to put all your energy or your time on one thing, eventually you will achieve your goal," Guan said. "But this Proposition 16 will remove all this promise."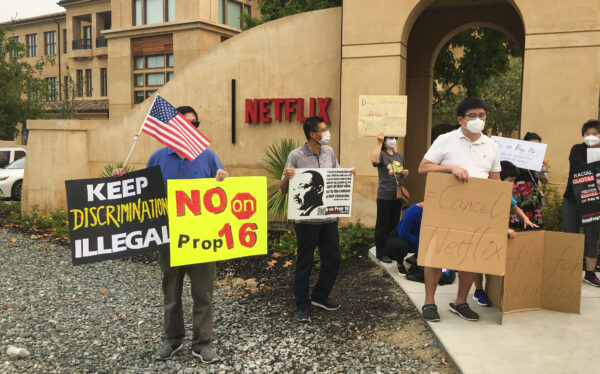 He used college admissions as an example.
"Now you are telling the kid, 'Hey, sorry about that. Because your race and your skin color is not preferred, then you are rejected from being admitted into the school.'" 
Prop 16 also went by the name Assembly Constitutional Amendment 5 (ACA 5) earlier this year. When author Assemblywoman Shirley Weber (D-San Diego) introduced it, she said, "The ban on race-conscious and gender-conscious remedies do not allow for us to deal with root causes of systemic failures."
"The removal of 209 would not burden you, because it is permissive and not prescriptive and does not mandate anything," she said. "But for leaders who want to help remedy gender bias and disparity, Proposition 209 has only served as an impediment to act on best practices aligned with the United States Constitution."
Its opponents argue that it will cause further discrimination against people based on their backgrounds.
"How can you judge us by our skin color?" protester Ava L. told The Epoch Times. "This is nothing we can do. All we can do is we can try to work hard, study hard to achieve anything we want to achieve in society. But not because of our skin color, not because of where we came from.

"I feel like this is a huge loophole for corruption."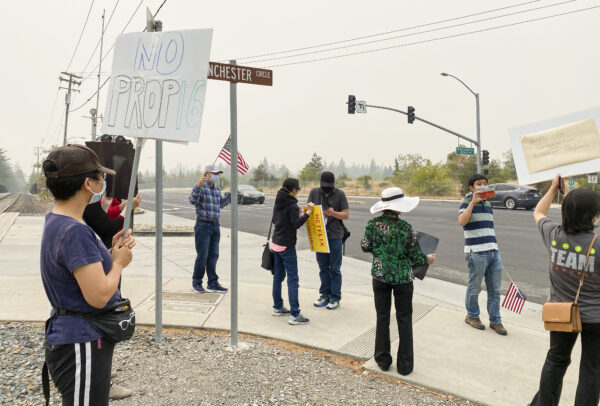 "A company should follow the federal equal employment opportunity, which is also federal law," protester Youwen Yi told The Epoch Times. "And by promoting Prop. 16, the company [is] publicly against the equal opportunity. They are encouraging discrimination. That's not good. They sent a wrong signal to society."
Netflix declined to comment on the protest or Quillin's support of Prop. 16. 
Guan said they've been holding car rallies almost every week for the last two months in both Northern and Southern California. They will continue to hold them until the general election.
With reporting by Nancy Han.