WASHINGTON—A protest across from the Royal Thai Embassy on Feb. 7 called for the release of Mr. Chiang Yung-shin, a Taiwanese national who helped the Sound of Hope radio network lease a house in northern Thailand.
Sound of Hope is a Chinese-language radio network based in San Francisco that beams uncensored news via short-wave radio into mainland China. Frank Lee, the radio network's spokesperson, said the arrest of Chiang was part of the Chinese communist regime's efforts to censor and control the information Chinese people have access to.
The house rented by Chiang is in the northern Thai city of Chiang Mai and had since 2015 been the site of a Sound of Hope station.
In August, Thai police raided the station, confiscating all of its equipment. On Nov. 23, Chiang was arrested. He is now out on bail, but is forbidden to leave Thailand. He faces trial on Feb. 12 and, if found guilty, could be sentenced to up to five years in prison under Thailand's Radio and Television Broadcasting Act.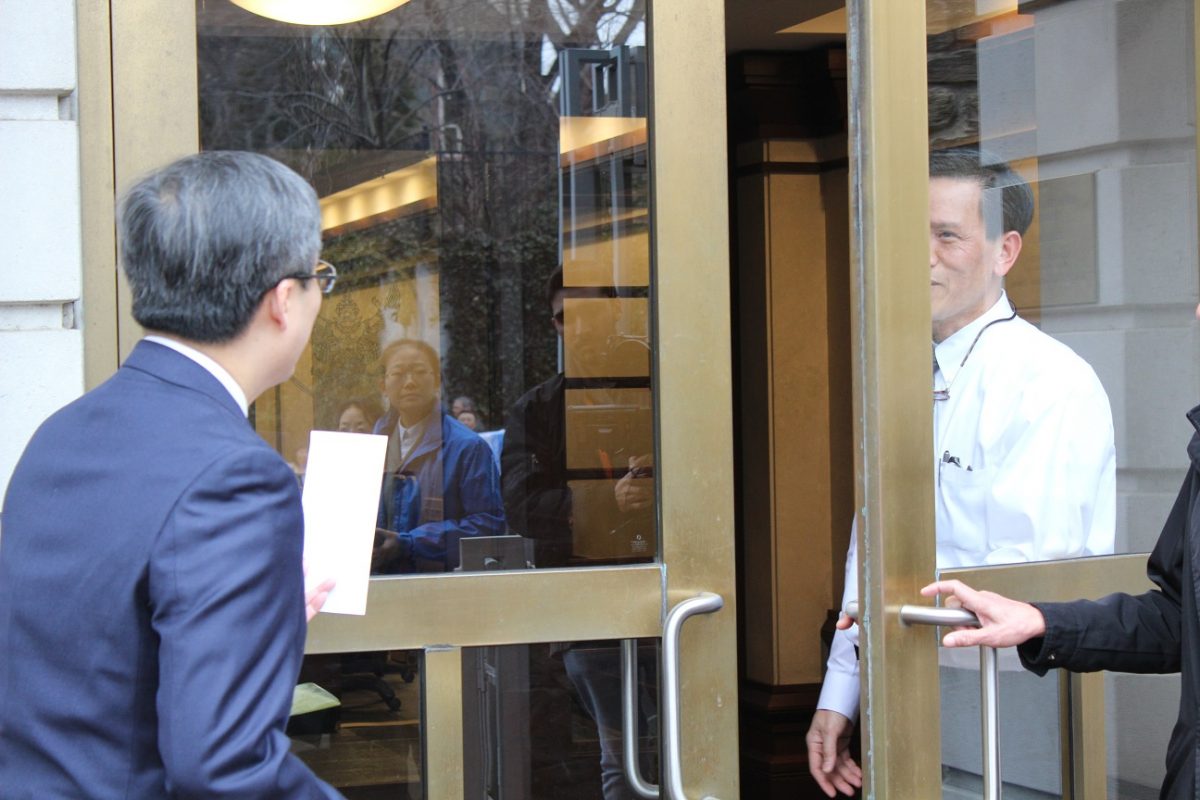 Reporters Without Borders says that the prosecution's case against Chiang depends on a witness who claims to have seen the erection of a 30-meter-tall broadcasting tower at the Sound of Hope station.
Sound of Hope has denied erecting any such tower, which it says is not needed for short-wave broadcasting. It also has denied having engaged in "illegal broadcasting," as charged by the state.
Freedom House reports that Thai police tricked Chiang into signing a confession, deceiving him due to his limited knowledge of the Thai language.
Police told Sound of Hope that the raid and the arrest were carried out due to pressure from China.
The Chinese regime goes to extraordinary lengths to control the information available to the Chinese people. A system called the "Great Firewall" to a great degree cuts the Chinese internet off from the rest of the world, only allowing access to sites approved of by the regime.
Western social media companies must comply with China's censorship in order to operate in China. All Chinese media are either owned or controlled by the Chinese Communist Party (CCP).
Sound of Hope says its broadcasts reach nearly all parts of China. The network, which calls itself China's public radio, offers channels that provide news, including reporting on religious persecution and human rights abuses; culture, which includes exploring China's ancient traditional culture; life, which has programming on family life and living well; leisure, which includes music and entertainment; and a channel in the Cantonese dialect.
Beyond its content, Sound of Hope is a target for the Chinese regime because the network was founded by practitioners of Falun Gong. The spiritual practice, also known as Falun Dafa, has been persecuted by the CCP since July 1999.
Then-dictator Jiang Zemin feared the popularity of Falun Gong; Western media reported in 1999 that as many as 100 million Chinese had taken up the practice. He was also concerned that the people of China found the teachings of Falun Gong—based on the principles of truthfulness, compassion, and tolerance—more appealing than the atheistic materialism offered by the CCP.
The persecution of Falun Gong has continued up to today. Thousands have died from torture and abuse, and large numbers of Falun Gong practitioners have been killed through state-sanctioned organ harvesting.
Reporters Without Borders Asia-Pacific issued a statement regarding Chiang's case: "This totally unjustified arrest deals a new blow to the freedom to inform in Thailand and penalizes Chinese listeners who count on this radio station for information that circumvents censorship. We call on the Thai authorities to stop abetting Beijing's operations against opposition media outlets and to drop the charges against Chiang."
Chiang is a high-ranking executive with a Taiwanese company that does business in Thailand. In Taiwan, he has a wife and two children.
The CCP has previously sought to shut down Sound of Hope broadcasts.
In 2011, Vietnam arrested two for broadcasting into China. Also in 2011, Indonesia sought to shut down a Sound of Hope station that broadcast to local Chinese communities and to the heavy Chinese freight traffic sailing by.
The Thai Embassy did not respond to phone and email messages requesting comment by press time.