Actress Felicity Huffman should be sentenced to one month in jail for her involvement in the nationwide college bribery scheme, federal prosecutors told a judge. The actress argued her sentence should not include any prison time.
Huffman, 56, best known for her role in "Desperate Housewives," pleaded guilty in May to paying a consultant $15,000 to have one of his associations take her daughter's completed SAT test and correct some of the answers.
Huffman pursued a similar scheme for her younger daughter but never went through with it.
The consultant, William Singer, and his associate, Mark Riddell, have both pleaded guilty in the scheme, as have over a dozen parents in addition to Huffman. Other parents, including Lori Loughlin and Mossimo Giannulli, are fighting the charges against them.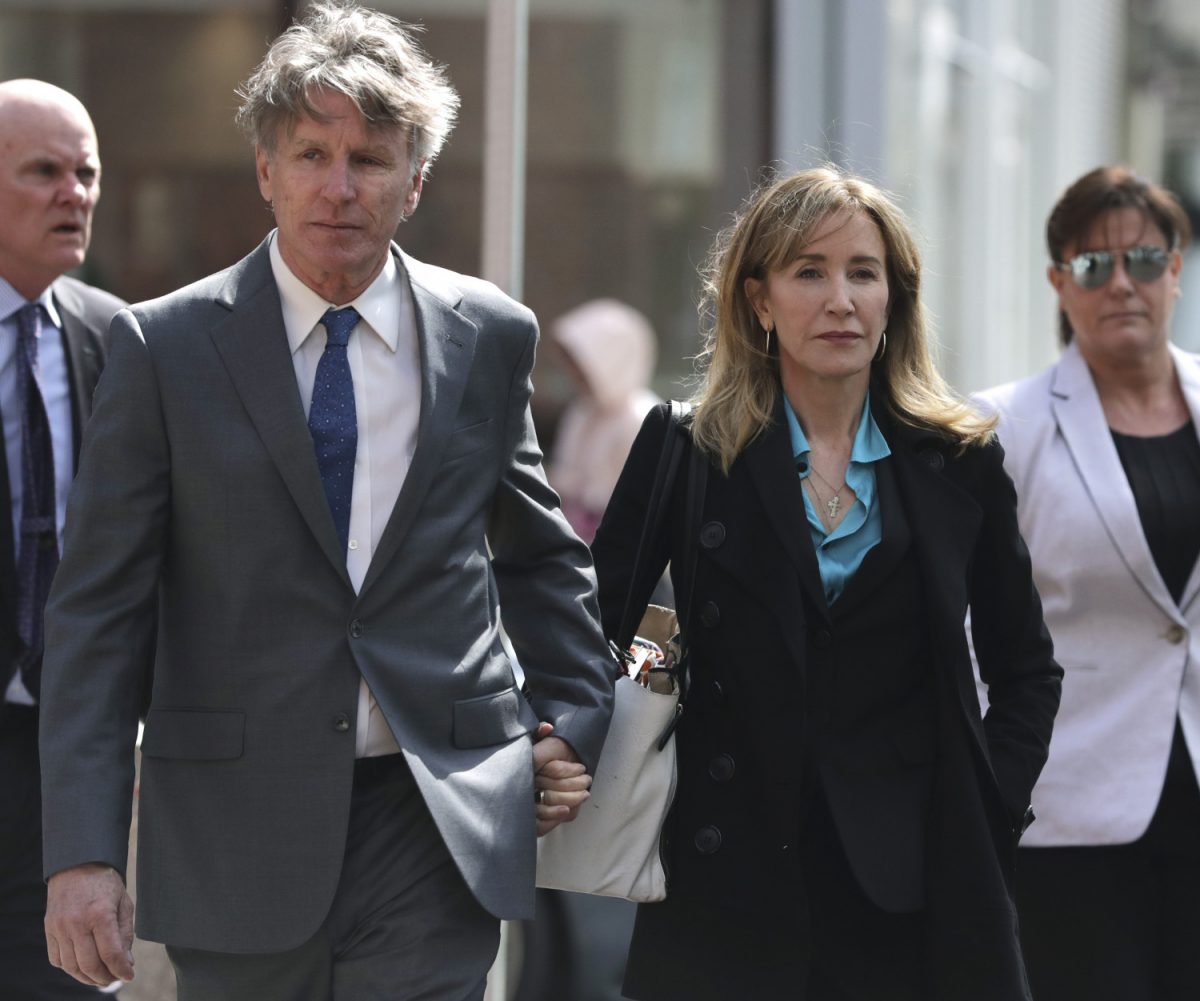 Federal prosecutors said Sept. 6 that Huffman should serve one month in prison, an adjustment from the four months they previously sought.
"The government recommends a sentence of one month of incarceration for Huffman, who agreed to pay $15,000 for the exam cheating scheme for her older daughter, and considered doing it again for her younger daughter, but ultimately chose not to do so," U.S. Attorney Andrew Lelling wrote in a sentencing memo to U.S. District Judge Indira Talwani (pdf).
Prosecutors said the one month in jail should be "followed by 12 months of supervised release and a fine of $20,000."
"Some period of incarceration is the only meaningful sanction for these crimes," Lelling's office said. "Not because the defendants' relative wealth has generated public resentment, but because jail is a particularly meaningful response to this kind of offense."
NEW: The government is seeking a one-month prison sentence for Felicity Huffman. pic.twitter.com/VBhiICN88x

— Aaron Leibowitz (@aaron_leib) September 6, 2019
"For wrongdoing that is predicated on wealth and rationalized by a sense of privilege, incarceration is the only leveler: in prison everyone is treated the same, dressed the same, and intermingle regardless of affluence, position or fame," it added.
Huffman sent a letter to the judge, saying she wanted "to offer you a broader perspective and insight into who I am as a person and a parent."
"Let me be very clear," she wrote, "I know there is no justification for what I have done. Yes, there is a bigger picture, but ultimately it doesn't matter because I could have said 'No' to cheating on the SAT scores. I unequivocally take complete responsibility for my actions and will respectfully accept whatever punishment the court deems appropriate."
"I keep asking myself, why did I do this? Why did I say yes to a scheme of breaking the law and compromising my integrity? What interior forces drove me to do it? How could I abandon my own moral compass and common sense?" she wrote. "I honestly didn't and don't care about my daughter going to a prestigious college. I just wanted to give her a shot at being considered for a program where her acting talent would be the deciding factor. This sounds hollow now, but, in my mind, I knew that her success or failure in theater or film wouldn't depend on her math skills."
Here is the full letter from Felicity Huffman to U.S. District Judge Indira Talwani: pic.twitter.com/qyqhj1nocq

— Aaron Leibowitz (@aaron_leib) September 6, 2019
Huffman said she was initially shocked when Singer first suggested cheating on the SAT test but she later started to think she'd be a bad mother if she didn't agree.
She said that her daughter later confronted her.
"When my daughter looked at me and asked with tears streaming down her face, 'Why didn't you believe in me? Why didn't you think I could do it on my own?' I had no adequate answer for her. I could only say, 'I am sorry. I was frightened and I was stupid,'" she said.
"I have a deep and abiding shame over what I have done. … As painful as this has been, I am truly grateful for the lessons I have learned and for the opportunity to change and live more honestly."
Huffman's attorneys requested Huffman get one year of probation, a $20,000 fine, and 250 hours of community service.
Huffman will be sentenced on Sept. 13.