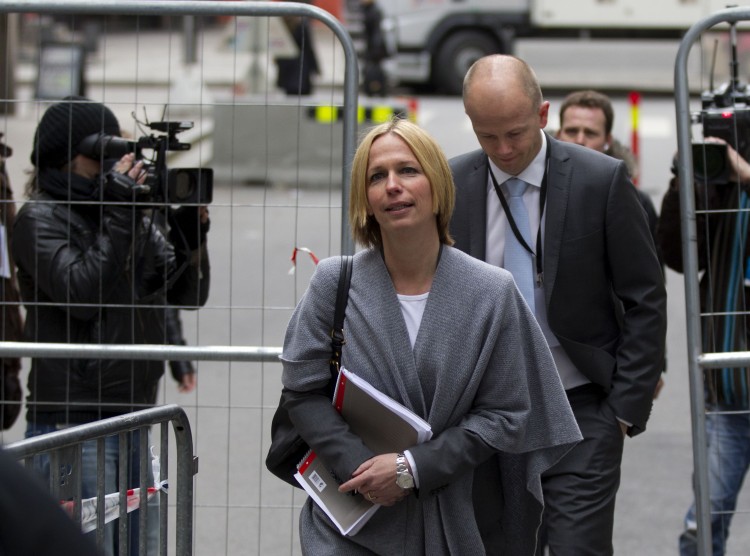 On the third day of the trial against Norwegian terrorist Anders Behring Breivik, the strategy of the prosecution has come into focus. By drilling into the details about Breivik's life as a "militant ultra-nationalist" and the network he claims to be part of, the prosecution is trying to expose Breivik as either lying or delusional.
Breivik, who is on trial for the murder of 77 people in a bombing and subsequent shooting in Norway last July, seemed calm and confident in court on Tuesday, when he spoke at length about his ideology.
Wednesday, however, he showed clear signs of tension and exasperation when the prosecution was questioning him on his past and his supposed network. Numerous times Breivik said that he knew the prosecution was out to "ridicule" him and refused to answer many questions that he had previously answered in police interrogations.
Breivik claims to be a member of a European Christian, anti-Muslim nationalist network, or order, called The Knights Templar and that there are other single-person cells like him, planning operations. The prosecution, however, believes he acted more or less on his own. On the third day of the trial, they focused on his alleged trips to Liberia and London where Breivik claims to have met the other members of the Knights Templar.
"We don't believe this network exists, and we want to shed light on the matter," prosecutor Inga Bejer Engh said at a press conference after Wednesday's proceedings. When asked why this matter was so important, she said, "He builds his actions and his ideology on this. I think people who follow the proceedings are also interested to know if he was alone or not."
This strategy may also be a subtle way of deflating Breivik as a possible martyr or symbol for other ultra-nationalist radicals. Breivik has already admitted that his over 1,500-page manifesto contains many exaggerations about the movement he says he belongs to, but that it was written that way in part to "sell" its ideas to people open for radicalization. Now, the prosecution is chipping away at what remains of his claims of there being a movement at all.
Breivik, who wants to be found sane and said on Wednesday that the death sentence is the only sentence he would respect, clearly resents this.
"I know you will try to de-legitimize me for the next two hours. So we can go on for another two hours or get to the point," he told the prosecutor at one point.
Harald Stanghelle, political editor of newspaper Aftenposten, commended the prosecution for their efforts to paint the picture of Breivik as a home-grown terrorist without the "impressive international network" he claims to be part of.
"This confrontation is destroying his self-image, which is why he gets so annoyed with Inga Bejer Engh," Stanghelle told Norwegian Television (NRK).
In a comment to Breivik's apparent inability to maintain his militant image under questioning, a member of the courtroom audience told NRK that "the troll is about to burst in the sunlight," alluding to a Nordic metaphor for how things always seem more frightening the less we know about them, but often disappear when examined rationally.
The prosecution did not want to comment on whether they think Breivik is lying or delusional, as it will evaluate his mental state during the trial, to decide if they will eventually demand a prison sentence or recommend that Breivik be remanded to a psychiatric hospital.