California Gov. Gavin Newsom has fired another shot at gun makers with proposed legislation that would allow the state and private citizens to sue anyone who manufactures, distributes, transports, imports into the state or sells assault weapons, .50 BMG rifles, ghost guns, or ghost gun kits.
Assembly Bill 1594 would allow individuals and the state Attorney General to sue firearm manufacturers and sellers, and Assembly Bill 1621 would tighten ghost gun restrictions. A third bill, Assembly Bill 2571, would outlaw advertising of some rifles made for minors.
"California will continue to lead the fight to end gun violence with bold action to tackle the national crisis putting millions of Californians at risk," Newsom said at a Feb. 18 press conference.
"It's time to go on the offensive with new measures that empower individuals to hold irresponsible and negligent gun industry actors to account, crack down on shameful advertising that targets our kids, and more. This is not about attacking law-abiding gun owners; it's about stopping the tragic violence ravaging communities across the country."
Assembly Bill 1594, authored by Assemblymen Phil Ting (D-San Francisco), Mike Gipson (D-Carson), and Christopher Ward (D-San Diego) uses "an exemption to the federal statute that allows gun makers or sellers to be sued for violations of state laws concerning the sale or marketing of firearms."
"No industry should get a special exemption from protecting their customers, but especially not an industry responsible for the deaths of thousands of Americans every year," Attorney General Rob Bonta said.
Mark Oliva, a spokesman for the National Sports Shooting Foundation, which represents gun manufacturers, told The Epoch Times the proposed legislation "runs into direct conflict" with federal law.
Under the Protection of Lawful Commerce in Arms Act, firearms manufacturers and gun dealers are protected from being held liable when crimes are committed with their products have been committed with their products.
Oliva said the proposed California legislation would be "akin to suing Ford and Budweiser for drunk driving deaths."
"Ford and Budweiser are not responsible for the criminal actions of those individuals who kill people on California's highways. Those individuals are," he said. "Same thing here. Someone who wrongfully and illegally uses a firearm to commit a crime is responsible for that crime, not the firearms manufacturer [and] not the retailer who lawfully sold that firearm to somebody with a background check."
Convicted criminals can't pass a background check, so they usually buy guns on the black market or steal them, he added.
According to Oliva, Newsom has targeted the JR-15 rifle, a new youth model rifle that was introduced this year.
"It's a .22-caliber rifle that ships with a one-round magazine. So, when the governor talks about magazine restrictions, this is it. It has a safety on it that doesn't work like my safety on my AR-15. The safety," he said, "is much more intentional. It has to be pulled out, turned, and then dropped back in."
Oliva accused gun control advocates of trying to "sue the firearms industry out of existence."
"They're trying to legislate through adjudication. If they can bankrupt the industry … then they don't have to worry about passing gun control laws," he said.
The anti-gun lobby also wants to completely ban partially built ghost guns even though it has been legal for Americans to build a firearm in their own homes for personal use since the colonial era, Oliva said.
"That is still legal today," he said.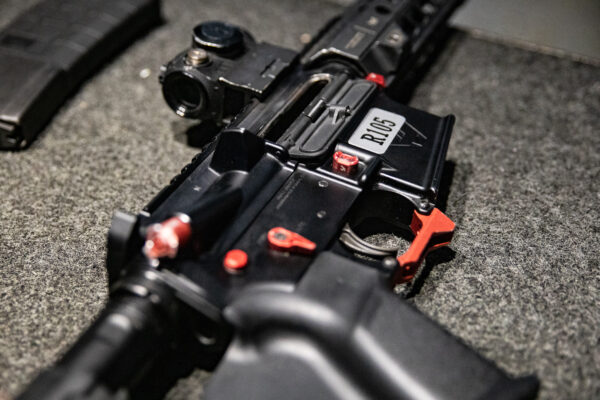 The legislation appears to be in retaliation to a Texas law that bans most abortion services, and a U.S. Supreme Court decision that upheld it.
Newsom's press release states that one of the bills authored by Sen. Bob Hertzberg (D-Van Nuys), was "modeled on the structure of Texas's abortion law."
"In a just world, a woman's right to choose would be sacrosanct, and California's people would be protected from ghost guns and assault weapons. Sadly, a misguided Supreme Court decision has turned common sense on its head. With this bill, we take advantage of the Court's flawed logic to protect all Californians and save lives," Hertzberg said in a statement.
Newsom said in December 2021 statement, "I am outraged by yesterday's U.S. Supreme Court decision allowing Texas's ban on most abortion services to remain in place, and largely endorsing Texas's scheme to insulate its law from the fundamental protections of Roe v. Wade. But if states can now shield their laws from review by the federal courts that compare assault weapons to Swiss Army knives, then California will use that authority to protect people's lives, where Texas used it to put women in harm's way."
Newsom said he had directed his staff to work with the legislators and Attorney General Rob Bonta to draft the proposed legislation: "If the most efficient way to keep these devastating weapons off our streets is to add the threat of private lawsuits, we should do just that."
But Oliva contends Newsom's argument that "if Texans can sue over abortion, then we can sue over guns" is "mixing and conflating two completely separate issues to appeal to his base."
Newsom held the press conference at Del Mar Fairgrounds, where the sale of firearms and ammunition was banned under, Assembly Bill 893, legislation he signed into law in 2019.
News announcements come on the heels of a $73 million settlement between the families of Sandy Hook mass shooting victims' families and Remington, a large gun manufacturer, earlier this week.