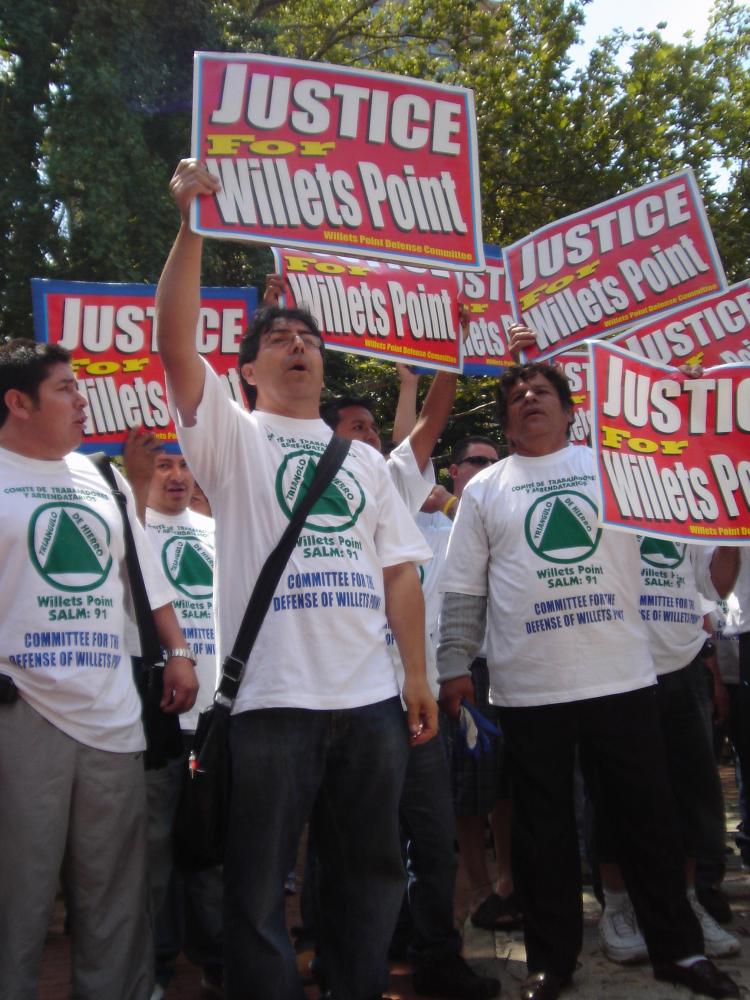 NEW YORK—Supporters and opponents of a Willets Point redevelopment project clashed in a boisterous confrontation of jeers and chants in Manhattan's Washington Square Park prior to a City Planning Commission hearing on Aug. 12.
Willets Point, a 13-block waterfront area bordered by Shea Stadium to the west and Flushing the east, is the target of a $3 billion redevelopment and rezoning urban renewal plan created by Mayor Michael Bloomberg and his administration.
The redevelopment plans will result in the removal of several recycling centers, junkyards, and 250 small businesses, 70 percent of which are automobile repair related.
Opponents of the proposal are mainly owners of these small business and their workers. Their main concern is that about 1,750 workers will be replaced without guaranteed job relocation.
"If we still have justice in America, they're going to do this project until they give us relocation plan and compensation plan," said Arturo Olaya, President of the Willets Point Defense Committee.
Opponents are also worried about housing issues. After construction, 80 percent of the new apartments in Willets Point will be market-rate housing and the remainder may not be affordable for middle and low-income Queens' families.
The City is currently in negotiations with business relocation and will consider the use of eminent domain if agreements cannot be reached, giving the city power to seize the 60-acre property without the owners' permission.
The president and executive vice president of the Queens County Chamber of Commerce are both supporters of the plan.
According to president Albert Pennisi in his testimony to NY City Planning Commission, this project could turn Willets Point from the "Valley of Ashes" into a new neighborhood with green open spaces and enhanced waterfront.
As the center of the U.S. National Tennis Center and Shea Stadium, Willets Point is encountered by millions of sports fans. Pennisi said that approval of the plan will provide a better future for "fans of the U.S. Open and Mets who will want to come early or stay afterwards for a bite to eat or to shop."
Jack Friedman, the vice president, favors the plan for it could benefit the community by bringing opportunities for a first-class Convention Center, new jobs, and to create incremental trade and tax revenue.
"No one benefits from working in an area so polluted and so run down, that a car can't even drive down the street," said Friedman in his testimony before the City Planning Commission.
Protesters against the plan interrupted a press conference held hours before the hearing, which was organized by the city's Economic Development Corporation. Chants of "Justice for Willets Point" and "Save Willets Point" muffled advocates of the proposal. At one point, both sides engaged in a battle of raucous chants of "Shame on you."
Olaya said, "We are willing to fight with the city before they drop us on the street."