Property Prices Continue to Rise in China's Major cities
November 20, 2007 12:00 am Last Updated: November 20, 2007 12:00 am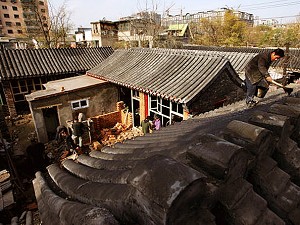 TAIPEI—According to Xinhua Net (hosted by CCP-controlled Xinhua News Agency ), the "China's Third Quarter 2007 Real Estate Market Report," published by the China Real Estate Chamber of Commerce (CRECC), shows that in the first three quarters of the year, the trading price for land rose 12.8 percent on average in the 70 big and middle cities.
The report shows that growth rate of real estate prices in the first three quarters were 9.8 percent, 13.5 percent and 15 percent respectively. The land transaction prices for residential housing in the third quarter surged 16.2 percent, 7.3 percentage points higher than the second-quarter level.
The report indicates that land acquisition in China has steadily increased from January to September 2007. Real estate developers acquired about 200 million square meters of land, a 17.8 percent increase compared to the same period last year. The land acquisition in the eastern region increased the fastest, and its growth rate was at 21.8 percent. The increases of percentage for the central and western regions were 12.6 percent and 16.2 percent, respectively.
The report shows that from the regional perspective, the provinces and cities with the fairly rapid growth in land acquisition include Ning Xia, Tianjin, Ganshu, Qinghai, Chongqing, Liaoning and Beijing. Among 40 key cities, Xining, Nanjing, Taiyuan, Wenzhou, Jinan, Shijiazhuang, Tianjin, Chongqing and Beijing showed the fastest rates of increase.