Prominent economist Chris Richardson has called on the Australian government to extend "JobKeeper" beyond September, proposing a revamped version of the subsidy called "JobTweaker" that will target a narrower selection of businesses.
Richardson, who is from Deloitte Access Economics, believes government support will be needed into the future, as the country recovers from the worst economic downturn since the Great Depression.
"More dollars are needed," Richardson said on July 6 according to AAP.
"How much more depends on our success against the virus and in opening up. But the recession is changing shape fast, so the nature, timing, and dollars of support needs to change fast," he continued.
Deloitte's quarterly business outlook estimates Australia's economy will shrink by three percent this year.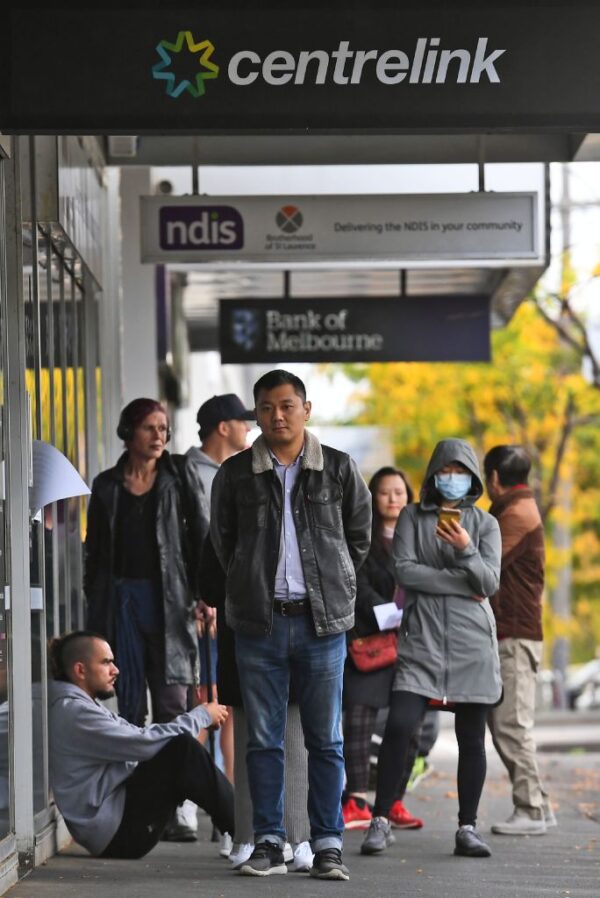 Currently, Victoria is on track to be the hardest-hit state with the recent surge of new COVID-19 cases which has broader implications given Victoria makes up one-quarter of Australia's economy.
Richardson said a wage subsidy was necessary beyond September when "JobKeeper" is due to finish.
He proposed a "JobTweaker" program targeting a smaller range of businesses and paying a lower benefit.
Gigi Foster, a professor at the University of New South Wales' School of Economics, agreed with Richardson that there needs to be continued support.
However, Foster told The Epoch Times on July 6 that she believed there should be more "customisation" of the program if it extends beyond September.
"The JobKeeper program was created in a rush, and while its effect of keeping employees linked to employers was gratefully received, it provided a flat payment to everyone," she said.
"I also think that the government should be considering policy options beyond simple handouts."
In particular, Foster said she believed that the federal government needed to be able to devolve its economic decision-making to the "level of individuals and businesses."
"Rather than chasing the vain hope that government will be able to see, and address, all the myriad needs in the economy from its position high above the action," said Foster.
Foster also proposed a loan scheme similar to HECS for university students, saying such a program could be tailored and would provide support at the "coal face of economic activity."
Australia's relative success in fighting the virus pandemic has given it more flexibility to open the economy, according to Richardson, who also said many of Australia's key trading partners had handled the virus well.
"Even so, families are struggling with the toxic trio of high debt, high unemployment and low confidence. The ranks of the unemployed will be badly swollen for a while," he added.
Government spending is expected to sure up the economy in the short term.
Prime Minister Scott Morrison announced an extra $525 million (US$365.45 million) for Victorian road and rail projects on July 6, after detailing similar packages for other states in recent weeks.
Deloitte's outlook on unemployment was sombre, with the expected unemployment rate to be 8.2 percent for the 2020-21 financial year—the equivalent of over 1.1 million people being out of work.
The advisory group does not expect the rate to return to pre-pandemic levels until 2023-24.
Deloitte also signalled that wage growth would lag behind inflation until 2024-25, while full-time employment will grow slower than part-time jobs.