When Carleton criminology professor Darryl Davies taught a sociology course at a Saskatchewan penitentiary in 1976, he had no idea that one of their convictions would be famously overturned.
Davies' former student, David Milgaard, died at the age of 69 in Cochrane, Alberta on May 15. But in 1969, Milgaard was a 16-year-old Winnipeg boy passing through Saskatchewan with friends. The time coincided with the discovery of nurse Gail Miller's body in a Saskatoon snowbank.
Milgaard was convicted of her rape and murder a year later and spent the next 23 years in prison, for a crime he didn't commit.
In 1976, when Milgaard was just 23, he became one of Davies' students. Davies was working for the Saskatchewan Law Reform Commission and was asked by the University of Saskatchewan to teach a first-year sociology class in the penitentiary.
"I jumped at the opportunity," he remembers, recalling how the Prince Albert Penitentiary was a "foreboding place."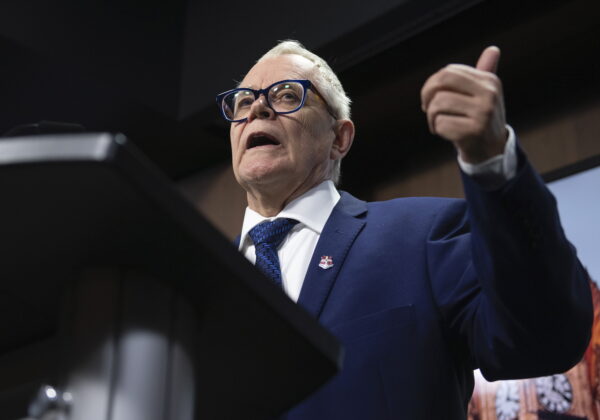 His class consisted of 4 guards and 14 inmates. All of the inmates completed the course, but three guards dropped out.
"David was a very polite, respectful student. He was no different than any student I would have encountered at the university. When he put his hand up, he asked a lot of questions, I remember that," said Davies, noting Milgaard was working towards the completion of his bachelor's degree at the time.
"He was a kind of quiet, almost shy type of person. I think he got an A on the course. He was a very bright student, very keen."
Davies told the educational coordinator he did not want to know what the prisoners were in jail for because he did not want to treat them with any conscious or unconscious bias.
The class was cancelled one week because the prison was in lockdown. Prisoners were occupying a communal area and refused to return to their cells, all to provide cover for a few who were attempting an escape—unsuccessfully as it turned out.
He said the experience taught him there was a prison culture, just as there was a police culture—one that Davies said had its own biases when Milgaard was charged.
'Botched' Investigation
"We had a Neanderthal police service in Saskatoon," said Davies, describing then-Police Chief James Kettles, who led the force at the time of Milgaard's arrest, as a "punitive-oriented person."
"[Kettles] basically targeted anybody in the area that had long hair. He couldn't stand them. He saw them as psychos and hippies, and that sort of thing."
Milgaard could not have known his long, curly hair might put him in jail. Davies said Milgaard was "targeted" by Saskatoon police, something that came out in a provincial inquiry into his conviction in 2006.
"What an incredible botched, incompetent investigation," said Davies.
"The interrogation done of David Milgaard by [police]… it was unbelievable. It was intimidating, aggressive. It was one of the worst examples of tunnel vision in the history of policing in this country."
Milgaard was eventually awarded $10 million in compensation—a result Davies attributes to the tireless efforts of Milgaard's mother Joyce, who fought for more than 20 years to obtain her son's freedom.
"His family, particularly his mother, she was the one who got him out of jail, not the legal system. And if it wasn't for her, he would still be there," he said.
Milgaard was released in 1992 when he was 39 years old.
In 1997, DNA evidence linked convicted rapist Larry Fisher to the murder. He was convicted of the crime in 2005 and sentenced to life in prison, where he died in 2015 at the age of 65. Milgaard received compensation from the federal government in 1999.
Davies says wrongful convictions remain an ongoing issue in Canada's justice system. Financially compensating people after the fact, he says, will never repair the damage.
"You can't compensate people for having taken away your life and placed you in actually absolutely barbaric circumstances."
Advocacy
In 2014, in a remarkable full-circle experience, Milgaard gave a lecture at Davies' institution, Carleton University, at an annual event organized by the Wrongful Conviction and Injustice Association of Carleton. Davies introduced Milgaard before a packed auditorium with a poem from William Butler Yeats, "Aedh Wishes for the Cloths of Heaven."
"He gave a great talk to my university students when he came to Carleton. We were very fortunate to have him. He is an articulate representative of people who have suffered irreparable psychological, physical, and emotional harm as a consequence of being wrongfully convicted by the state," Davies said.
According to a report of the lecture in the university newspaper The Charlatan, Milgaard told the audience that fighting for compensation from the government was like being in a second prison. He also believed that love was the key to combatting crime.
"The right way to have people change their minds about doing wrong is to surround them with love and care. They will feel bad about what they have done wrong and they will decide themselves not to do it again," Milgaard said.
After the event, Davies showed him a picture from a 1976 University of Saskatchewan alumni association publication called the Green and White. It showed Davies in front of a chalkboard wearing a wide tartan tie while Milgaard sat in the second row with curly locks and a white T-shirt.
"When he passed away on Sunday, I felt so sad for him," Davies said. "His whole life would never be the same after an ordeal like that. No human being, I think, could ever sleep at night without being haunted by those demons."
"I was honored to have met David Milgaard. I was touched by his humility. I was touched by the kind of person he is the person he became. He was someone who had a valid reason for hating life, and I never saw that in his eyes."