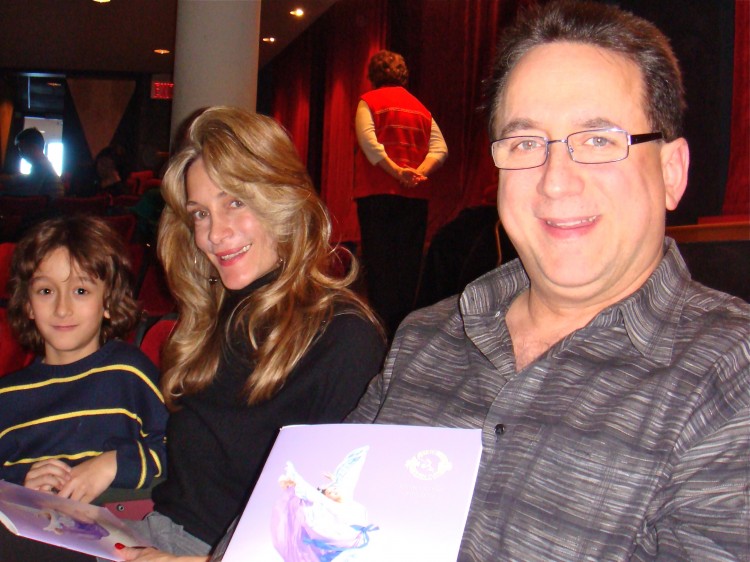 MISSISSAUGA, Canada—Professional drummer Dan Bodanis was bowled over by the Shen Yun Performing Arts show he attended at Mississauga's Living Arts Centre on Saturday afternoon.
"The show is wonderful. The choreography is phenomenal. The sets and the designs and the costumes are spectacular. The positions are excellent. It's one of the best shows we've seen here," said Mr. Bodanis, who drums with Toronto-based The Dan Bodanis Band.
Mr. Bodanis's wife, Kelly, was equally impressed. Mrs. Bodanis has a background in dance and is a former Miss Dance Canada.
"The dancing technique is beautiful. They're very, very graceful. The positions—the feet, arms, everything—they're very, very, very good. One of the best I've seen," she said.
"I relate to a lot of things that are happening out there and they're very, very good—and very, very beautiful."
Classical Chinese dance is the centrepiece of Shen Yun's performances. Shen Yun is the first company to present classical Chinese dance to the world on a large scale, according to its website. The show also features ethnic and folk dances.
Mrs. Bodanis said the dancers express themselves "beautifully."
"They tell the story with their arms, their legs, their movement, and I relate to it very well. I understand what they're saying through their body."
"The interplay between technology and the dancers is phenomenal," said her husband, referring to Shen Yun's signature animated backdrops.
Mr. Bodanis was also impressed by the orchestra, which blends traditional Western orchestral instruments with Chinese instruments such as the pipa and erhu.
"The orchestra is excellent. Everybody plays very, very well," he said.
"The conductor, he's got a great command of the orchestra. But [the musicians] also have a great respect for him in how they listen, how they respond dynamically, how they respond rhythmically, and the interplay between each in terms of their tuning, the intonation, their pitch. It's flawless. It's a very, very fine orchestra."
He added that the cooperation between the orchestra and the dancers was also flawless. "It's a seamless interplay."
"My son loves the battle scenes," said Mrs. Bodanis.
Shen Yun is known for its colourful costumes, all of which are handmade.
"Beautiful," said Mrs. Bodanis of the costumes. "They really go well with what they're doing. Very flowy, beautiful, graceful, colourful."
"It's the best show I've ever seen in my life," said her son.
Reporting by Dongyu Teng and Joan Delaney.
New York-based Shen Yun Performing Arts has three touring companies that perform simultaneously around the world. Shen Yun's New York Company will be in Mississauga until Dec. 23 before going to Ottawa and Montreal and other dates in Ontario, Quebec, and across Canada. For more information, visit ShenYunPerformingArts.org
The Epoch Times publishes in 35 countries and in 20 languages. Subscribe to our e-newsletter.