Producer prices saw solid growth in January, suggesting demand remains strong within the U.S. economy, now in its 11th year of a record-long boom.
The Labor Department said on Wednesday its producer price index (PPI) for final demand jumped 0.5 percent last month, the largest gain since October 2018.
In the 12 months through January, the PPI advanced 2.1 percent, the biggest increase since May, after rising 1.3 percent in December.
The government last week reported a pickup in core consumer prices in January, which led economists to expect firmer readings in the inflation measure tracked by the Federal Reserve for its inflation target.
The Labor Department released its Consumer Price Index (CPI) numbers on Feb. 13, which show that U.S. consumer prices rose 2.5 percent year-over-year in January, representing the biggest such rise since October 2018 and supporting the Federal Reserve's view that the economy continues along the path of expansion.
Prices of health care, recreation, and education were significant contributors to inflation in January.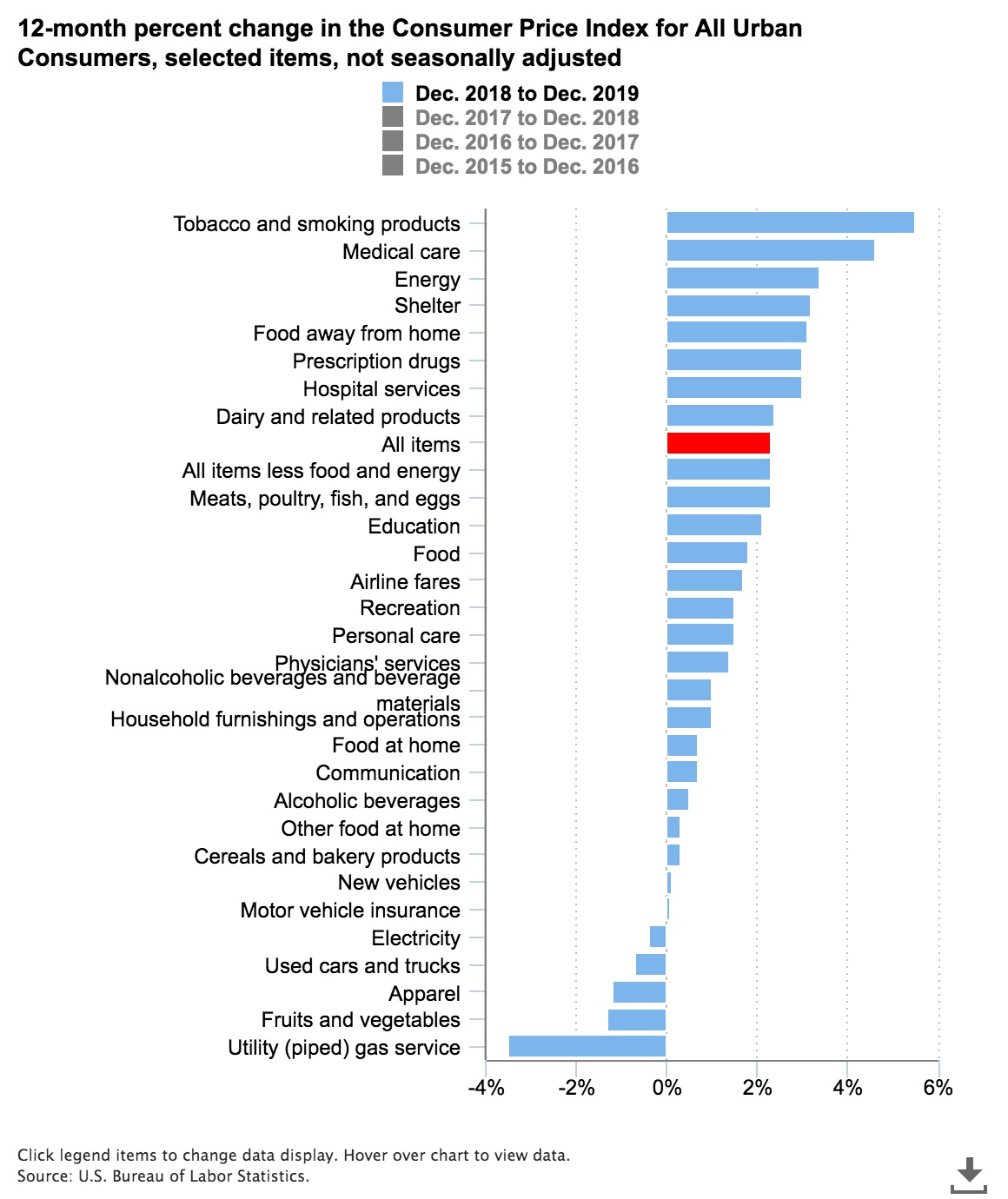 The Fed rests its monetary policy actions on the premise that a healthy economy benefits from some price growth, which it defines as its "symmetrical 2.0 percent objective."
The core personal consumption expenditures (PCE) price index, which the Fed uses in its inflation targeting, rose 1.6 percent on a year-on-year basis in December. While up from a reading of 1.5 percent in November, it undershot the Fed's 2.0 percent target.
January PCE price data will be published next Friday.
Economists cited by Reuters are forecasting that the core PCE index gained 0.2 percent in January, which would raise the annual increase to 1.7 percent. This level would put it broadly in line with market expectations, according to a chart provided by Nicholas Reece, senior financial analyst and portfolio manager at Merk Investments, which shows that market participants believe average inflation over the next 10 years will hover around 1.7 percent.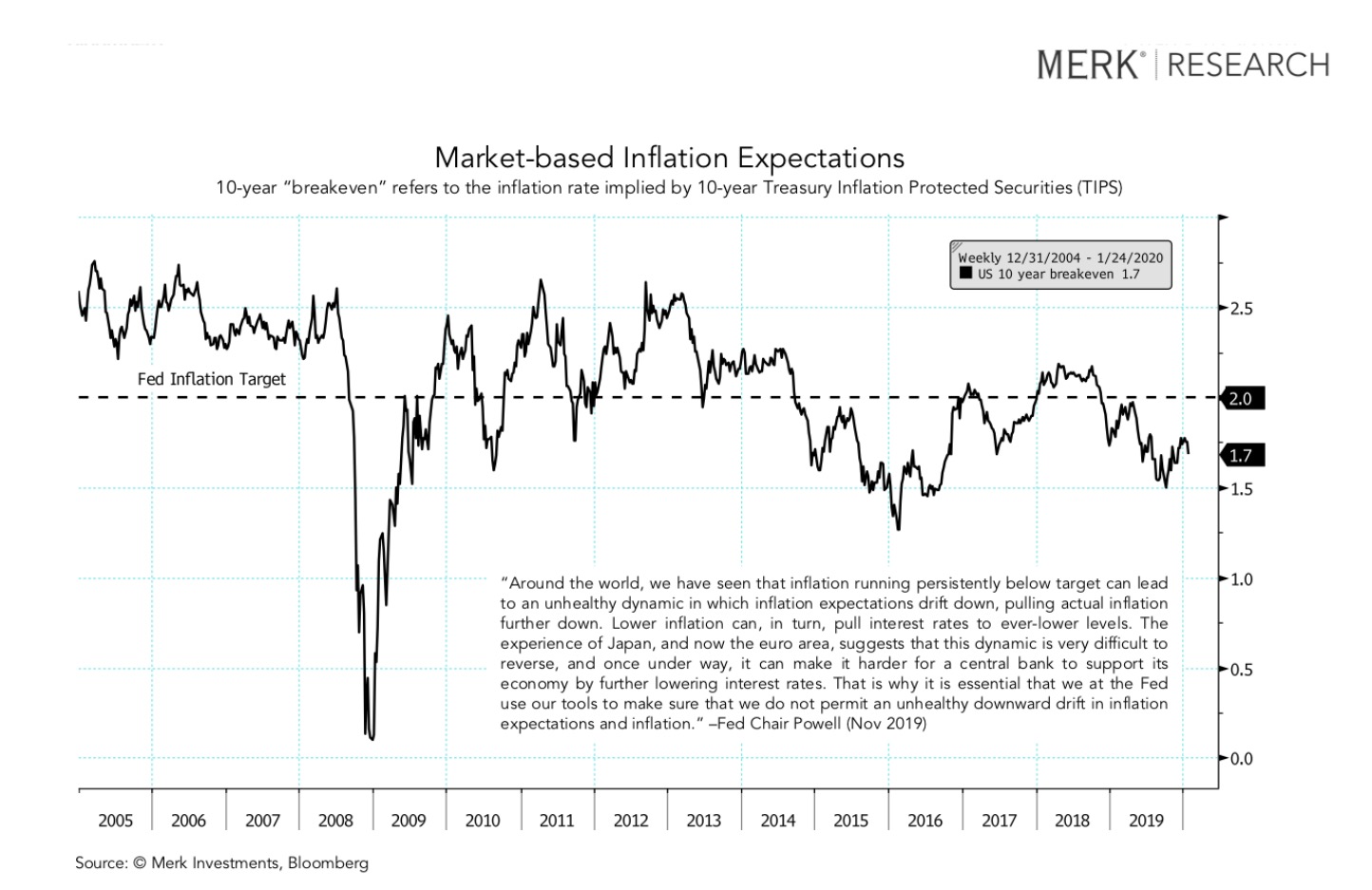 Fed Concerned About Muted Price Growth
Inflation is one of the factors the Fed monitors closely, wary of both excessively high or too tepid price growth.
After the Fed's most recent rate-setting meeting in late January, during which members ruled to keep the federal funds rate unchanged, Federal Reserve Chairman Jerome Powell fretted about inflation running too cool.
"While low and stable inflation is certainly a good thing, inflation that runs persistently below our objective can lead to an unhealthy dynamic in which longer-term inflation expectations drift down, pulling actual inflation even lower," he said at a press conference on Jan. 29.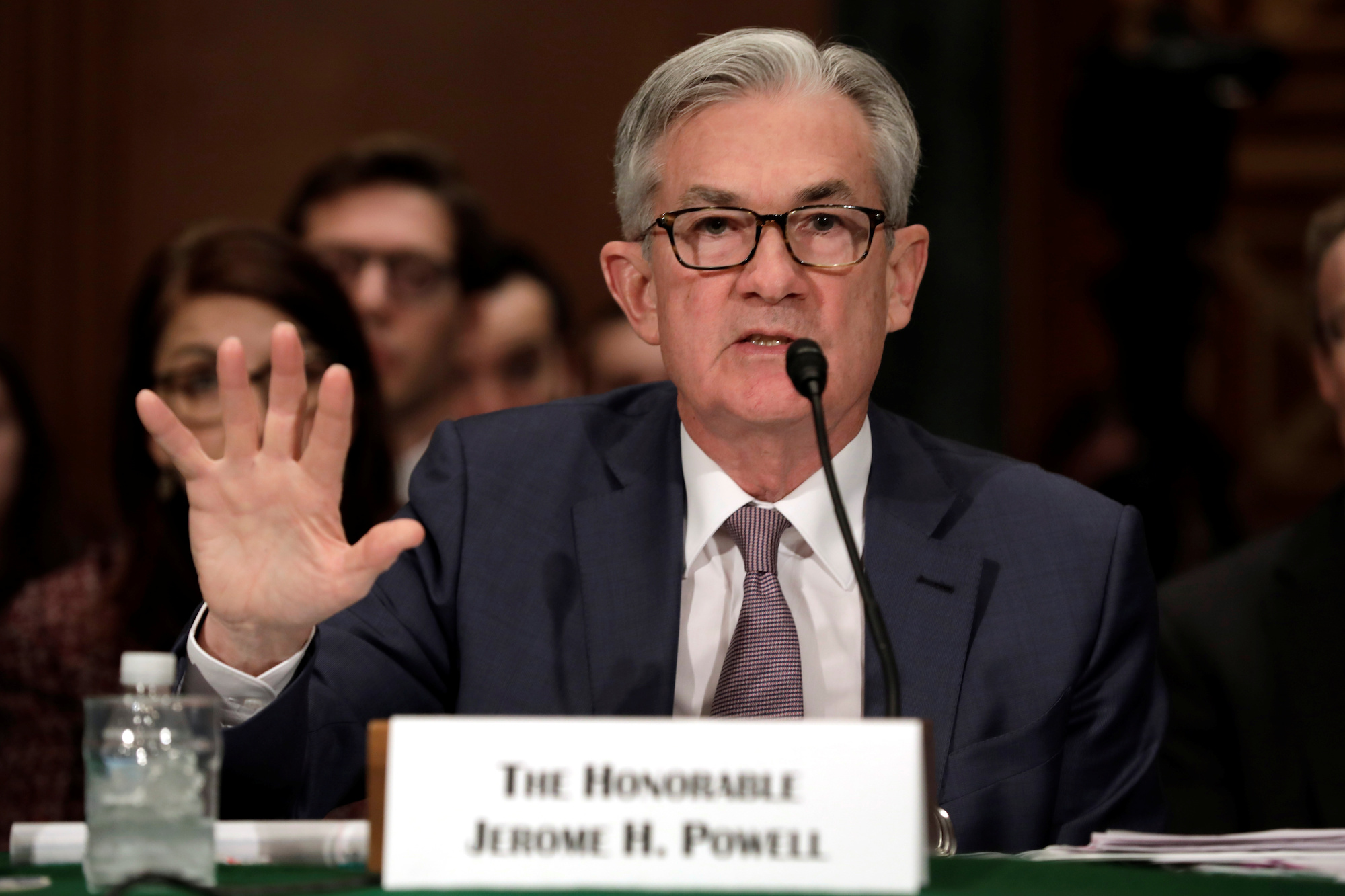 Despite concerns about below-target inflation, the Fed left interest rates unchanged at its latest meeting in January, after reducing borrowing costs three times in 2019.
Many economists expect the Fed to keep monetary policy on hold through this year, though officials have said the central bank would intervene if the economy suffers a significant hit from the coronavirus outbreak.
Powell told lawmakers on Feb. 12 that the Fed is keeping close tabs on the deadly epidemic and that he expects it will cause adverse economic spillover.
"We do expect that there will be some effects" on the U.S. economy, Powell said, adding that he expects to begin seeing these reflected in economic data "relatively soon."
Factory shutdowns and travel restrictions aimed at containing the virus's spread within China and to the rest of the world are expected to disrupt supply chains.
Allen Sukholitsky, founder and chief macro strategist at Xallarap Advisory, told The Epoch Times in a statement: "Although Chair Powell said that the current stance of monetary policy will likely remain appropriate, the market is pricing almost a 50 percent chance of at least two rate cuts by December."
"We are in the midst of the longest expansion on record, and despite labor market strength, the Fed has still been unable to hit its inflation target," Sukholitsky said.
Reuters contributed to this report.