A pro-Beijing online influence campaign known as Dragonbridge is focusing on major Australian, U.S., and Canadian rare earth miners who pose a threat to China's dominance of supply chains for the precious resource, according to a cybersecurity firm.
Dragonbridge comprises a network of "thousands of inauthentic accounts" spread across social media platforms, websites, and forums that promote the political interests of the People's Republic of China (PRC), according to U.S. cybersecurity firm Mandiant, which has been tracking the campaign since June 2019.
Earlier this year, Mandiant identified fake social media and discussion forum accounts posing as Texan residents and feigning concern over environmental and health issues surrounding the construction of a major rare earths processing facility by Australia's Lynas Rare Earths, the world's largest rare earth miner outside China.
The campaign also leveraged existing criticism—including from U.S. politicians—of U.S. President Joe Biden's decision in March to invoke the Defense Production Act to expedite rare earth production.
According to the U.S. Department of Defense, completion of the project would see Lynas produce "approximately 25 percent of the world's supply of rare earth element oxides."
One social media account owned by a "Jackie Eberhart" states: "We must stand up and boycott Lynas. For the health of the local people and for the sake of our next generation."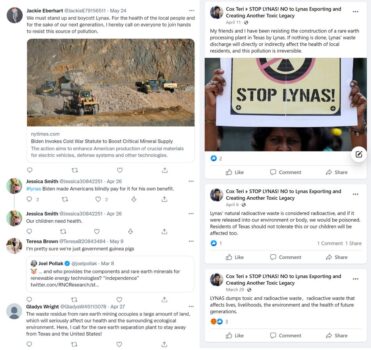 A "Cox Teri" claimed, "If nothing is done, Lynas' waste discharge will directly or indirectly affect the health of local residents, and this pollution is irreversible."
Online Influencers Target Key Competitors to China
In early June, cyber campaigns were begun against Canadian miner Appia Rare Earths and Uranium Corp. after it announced the discovery of a new rare earth deposit in Northern Saskatchewan in Canada.
U.S. rare earth supplier USA Rare Earth faced similar treatment after announcing plans for a new processing facility in Oklahoma in mid-June.
Mandiant said it contacted all three miners (Lynas, Appia, and USA Rare Earth) about the activity.
"While the activity we detail here does not appear to have been particularly effective and received only limited engagement by seemingly real individuals, the campaign's microtargeting of specific audiences suggests the possibility of using similar means to manipulate public discourse surrounding other U.S. political issues to the PRC's advantage," Mandiant said in a statement on June 28.
"Notably, Dragonbridge's targeting of additional rare earths mining companies underscores the campaign's ability to monitor developments and respond accordingly, as well as its investment in attempting to ensure the PRC's market dominance in the industry."
Rare earths and critical minerals are used in a range of high-tech products, including missile guidance systems, aircraft engines, smartphones, electric vehicle batteries, and wind turbines.
Currently, however, Chinese firms dominate the resource supply chains, sparking concerns that it could be leveraged in a geopolitical dispute.
"China currently controls 50 percent to 60 percent of global rare earth mining, 80 percent to 90 percent of the market in the intermediate processing stage where the elements are separated and refined into metals and alloys, and at least 60 percent to 70 percent in downstream manufacturing for products like permanent magnets," according to Kristin Vekasi, a professor of political science at the University of Maine.
Mandiant said Dragonbridge's activities revealed how attuned the group was to the strategic interests of the Chinese Communist Party.
"We may see other global competitors to PRC firms in other industries targeted by such information operations."