Britain's Home Secretary, Priti Patel, has published a long-awaited paper on the racial and other characteristics of child sex grooming gangs following both recent and non-recent high-profile cases.
When the publication of the paper (pdf) was announced on Tuesday, Patel said the "Victims and survivors of group-based child sexual exploitation have told me how they were let down by the state in the name of political correctness."
She said the paper would help to "better understand any community and cultural factors relevant to tackling offending" to protect children from abuse, deliver justice to victims, and "restore the public's confidence in the criminal justice system's ability to confront this issue."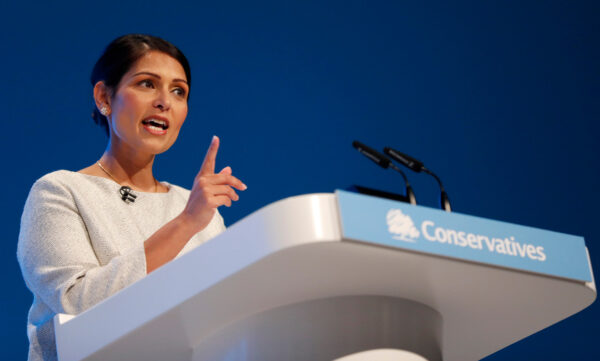 The government said, however, that the "available evidence on the characteristics of offenders" was limited.
"Some studies have indicated an over-representation of Asian and Black offenders," Patel said in the paper.
"However, it is difficult to draw conclusions about the ethnicity of offenders as existing research is limited and data collection is poor," she added.
"That is why the government's forthcoming Tackling Child Sexual Abuse Strategy will commit to improving our understanding of child sexual abuse—including around ethnicity," she said.
Though characteristics covered in the paper include the modus operandi of offender gangs, their ages, and networks, their ethnicity has been a pre-occupation for the country since reports of grooming gangs began to emerge in 2010.
High Profile Non-Recent Cases
It was the very high profile non-recent cases including in Rotherham, South Yorkshire, that prompted the production of Patel's paper.
In 2018 an estimated 1,500 children, most of them white girls were sexually abused, between 1997 and 2013, despite police and local lawmakers being made aware of the abuse.
In 2015, the National Crime Agency (NCA) set up the largest operation of its kind to investigate 16 years of abuses in Rotherham but did not secure its first convictions until 2017.
Children were groomed, trafficked, and raped across the UK, but offenders were not prosecuted reportedly owing to fears around race.
In Halifax, West Yorkshire, it was estimated that as many as 100 men of British-Pakistani origin could have been involved in child abuse between 2006 and 2011.
In 2016, 18 men were convicted for rape, trafficking, and sexual activity with children, and in January 2018 a further 20 men were arrested for their involvement in the Halifax gang.
A current serious case that is still to be heard by the courts hit the headlines earlier this month when 32 men, all apparently of Pakistani and South Asian ethnicity, were charged with sexually exploiting eight girls in West Yorkshire.
The over 200 offences they are charged with include 141 of rape and were allegedly perpetrated over a 13-year period between 1999 and 2012.
All the alleged offences took place in the Kirklees, Bradford, and Wakefield areas of West Yorkshire and were committed against girls between the ages of 13 and 16.
Nevertheless, Simon Bailey, the National Police Chief's Council lead on child protection, said that "Since 2014 the police service's response to group-based child sexual exploitation has significantly improved."
"I remain committed to continue this work," he said.
"What happened to these children remains one of the biggest stains on our country's conscience," Patel said.
Simon Veazey contributed to this report.