Britain's Home Secretary Priti Patel met with Hong Kong pro-democracy activist Nathan Law in London on Wednesday, pledging to protect and uphold freedoms for citizens of Britain's beleaguered former colony.
The meeting was described as the first between the British government and Law since he arrived in Britain in July, having left Hong Kong after Beijing imposed a new national security law on the territory that has been heavily criticised by the West.
Law, a Nobel Peace Prize nominee, thanked Patel for her work in opening up a new route to British citizenship for almost 3 million people in Hong Kong through the British National Overseas (BNO) scheme.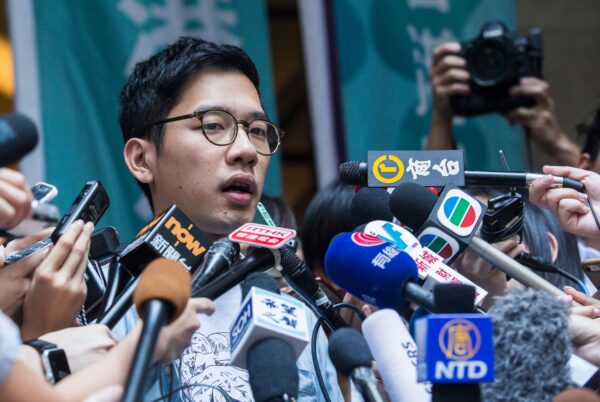 Law wrote on Twitter that it was his honour to meet with her in a "very constructive dialogue."
Britain's clearing the way earlier in the year for BNO Hong Kongers to take up residency in the UK marked an important milestone in firming up its approach to China following the regime's imposition of the draconian national security law.
"The BNO scheme means a lot to Hong Kong people who had tasted freedom but [are] gradually losing it," Law wrote.
The landmark meeting was also attended by Hong Kong rights advocate, and a fellow of Hong Kong Watch, Luke de Pulford, and Hong Kong Watch's co-founder and chief executive Benedict Rogers.
Hong Kong Watch wrote on Twitter that its team was "honoured today to have had the opportunity to discuss the implementation of the new BNO policy" with Patel.
"This is an historic and generous offer to millions of Hong Kongers in their hour of need," the rights group wrote.
'London Will Always Welcome Hong Kongers'
Another attendee was Conservative London mayoral candidate and firm Hong Kong freedoms advocate Shaun Bailey, who co-organised the meeting.
"The values of Hong Kongers are the values of Londoners," he wrote on Twitter.
He had met with Law to make that sentiment clear, he wrote, and that "we're sending the message that London will always welcome Hong Kongers with open arms."
The meeting follows the latest round of arrests of prominent former lawmakers, pro-democracy activists, and students, in Hong Kong on Tuesday.
"Today's arrests represent further evidence of the unrelenting crackdown pro-democracy activists have faced in the last few weeks and months, with mass arrests and sentencings becoming a daily occurrence as Beijing attempts to suffocate dissent," Rogers said in a statement.
"Likeminded partners who believe in the rule of law, human rights, and support Hong Kong's autonomy must act."
He called on the UK, Canada and the EU to join the United States in using targeted Magnitksy sanctions against the individual Hong Kong and Chinese officials who are responsible for human rights abuses.
Britain has accused the China regime of multiple breaches of the Sino-British Joint Declaration agreed when the Hong Kong territory was handed back to China in 1997. It says China's security laws and moves to disqualify legislators have undermined Hong Kong's formerly high degree of autonomy.
Reuters contributed to this report.